Cycling through water and trees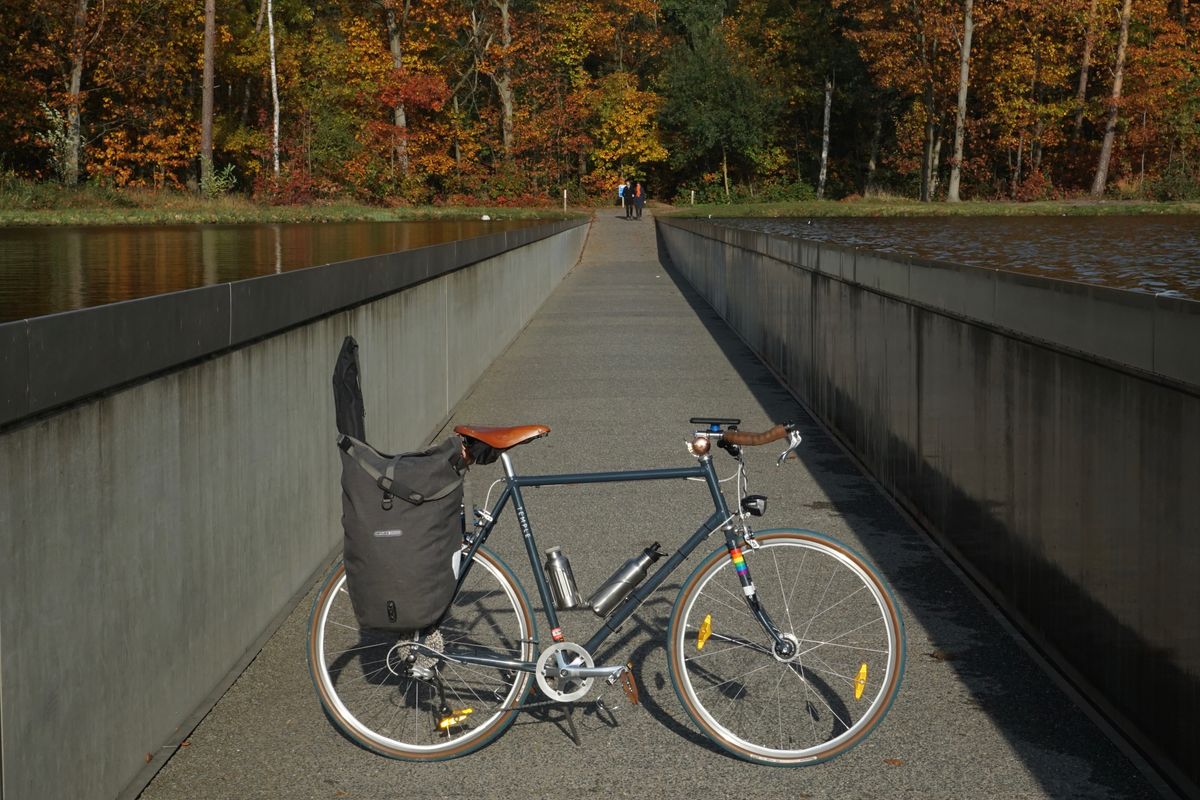 In a lull between a hectic period at work and the frenetic chaos of NaNoWriMo, I took my bike on the ferry to the Netherlands in late October last year—mainly so I could decompress by being forced to do nothing but concentrate on the road.
This time I went a bit further south than I had before, staying with a friend who lives near 's-Hertogenbosch before heading south into Limburg, a region which spans the Netherlands and part of Belgium. The Belgian part of Limburg has made a significant effort to attract cycle tourism, and this has meant the creation of two attractions: Fietsen Door Het Water (cycling through water) and Fietsen Door De Bomen (cycling through the trees.)
I was aware of Fietsen Door Het Water after a Dutch friend brought it to my attention, and was curious after reading more in Mark Wagenbuur's blog and video about the new Limburg attractions. I was originally planning to take the train to Maastricht and cycle from there to Genk, and only see the Fietsen Door Het Water attraction on the next day, on the way back home—but in the end, the ride from Eindhoven over the border into Belgium seemed achievable, and could also, if I diverted from the straight-line route, take me past Fietsen Door De Bomen.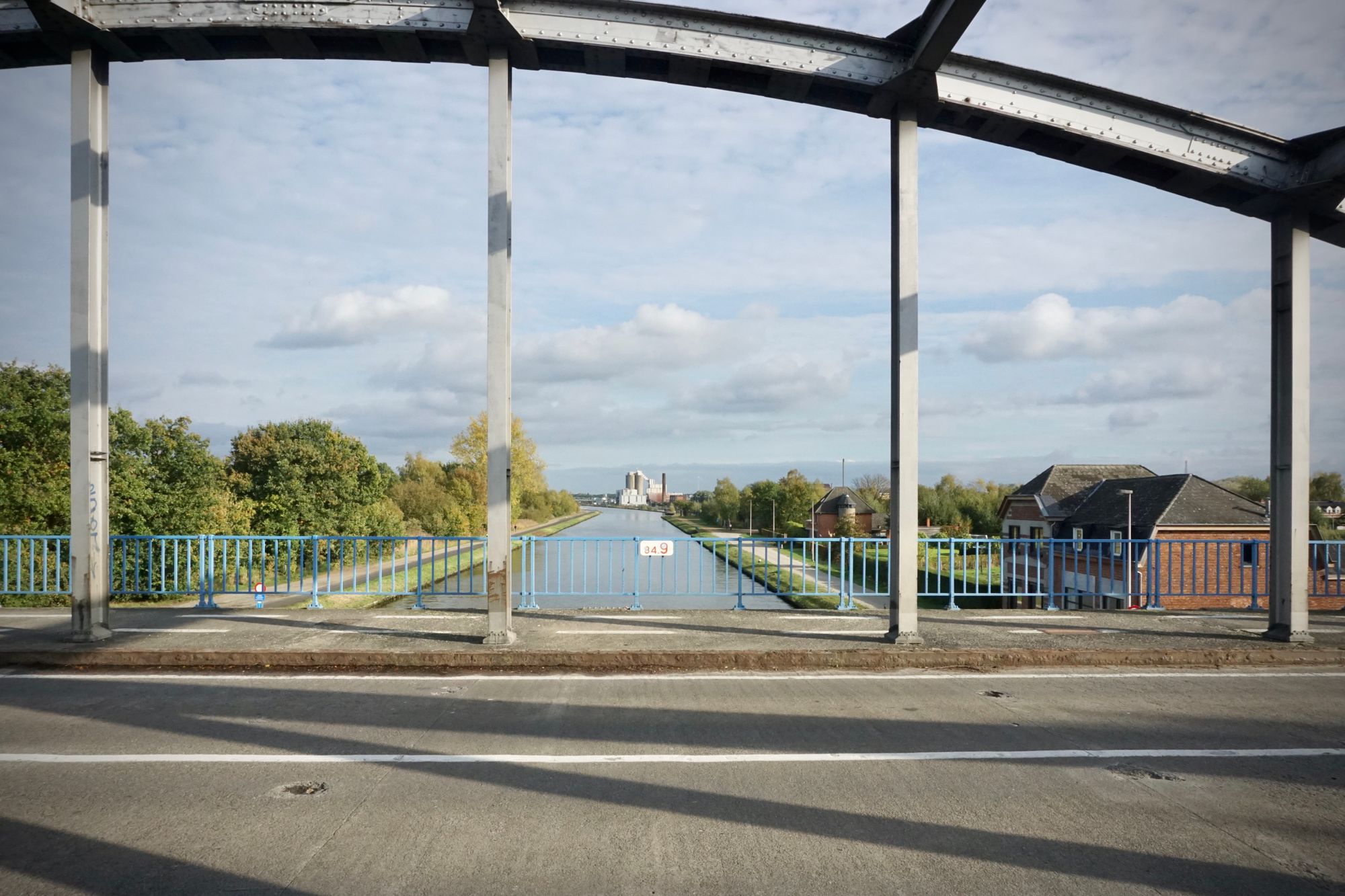 The ride was rather longer than I'd imagined, and by the end of the day I regretted (a) not eating enough, (b) not wearing padded shorts for what turned out to be 100km+ of cycling in one day, (c) not charging my phone and watch enough (Strava stopped recording while I was still around 20km out from Genk.) Maybe I spent too long stopping to take photos.
Another problem I wasn't expecting was that my maps app kept sending me down unpaved roads that looked more like footpaths—not great for my touring bike, without mudguards and running slick tyres! Some of the surfaces were closer to what I would expect from the UK's abysmal 'National Cycle Network'…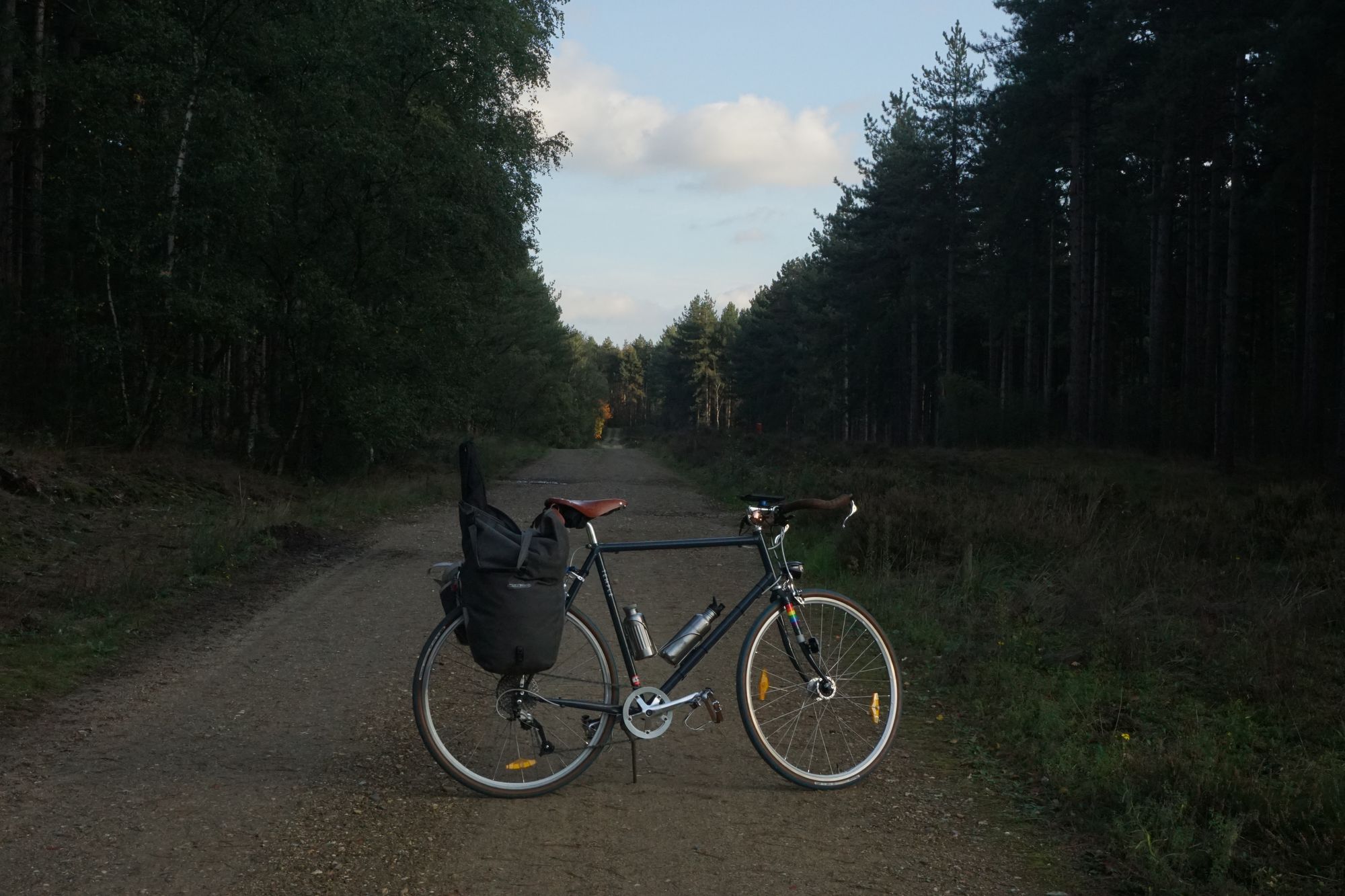 ---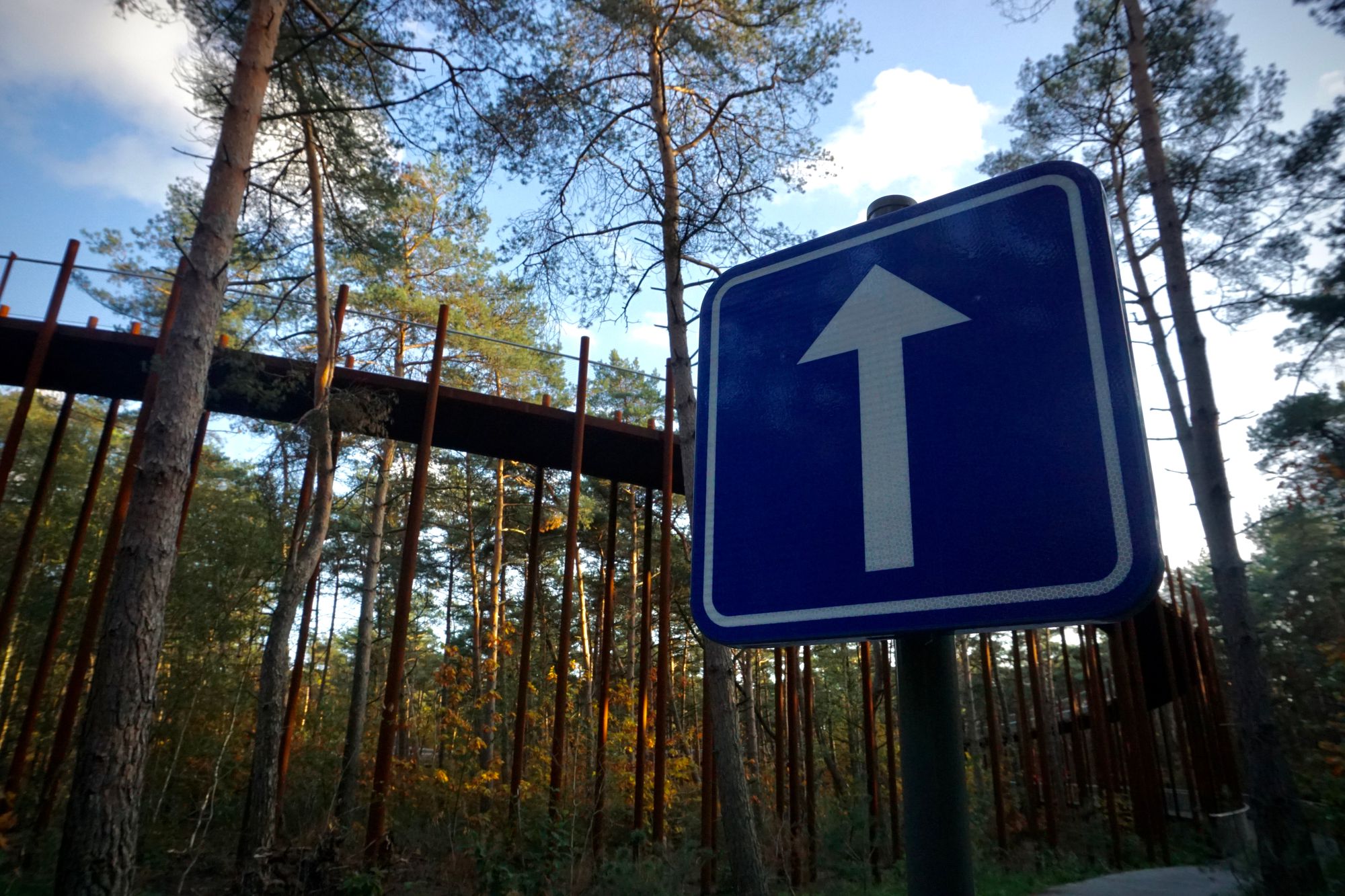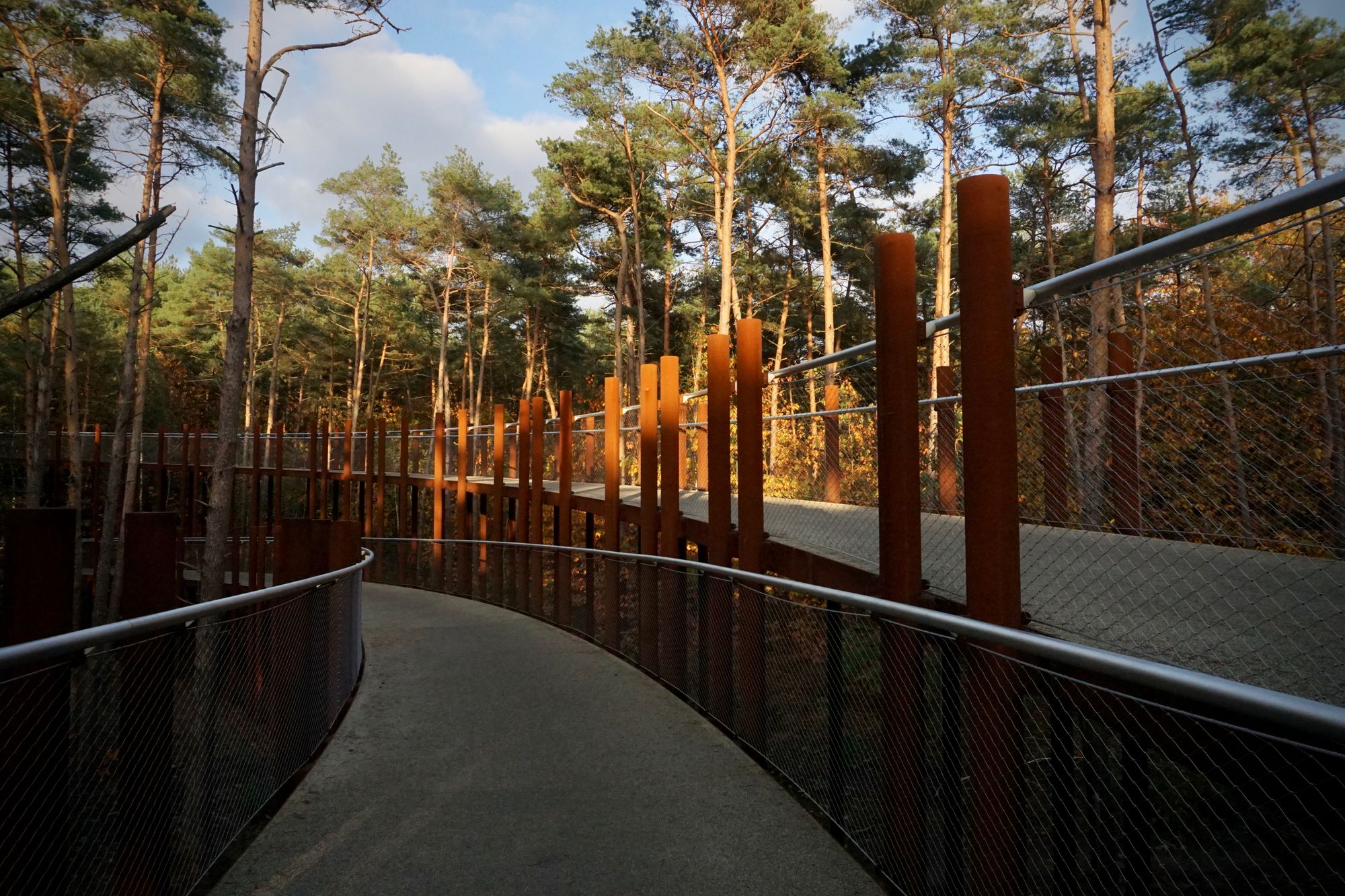 The whole thing reminded me of the Treetop Walkway at Kew Gardens, but with significantly less sway (and much less crowded.) The weathered steel reminded me of similar material choices in the Olympic Park in London, where I live, but here it seems more natural than the cladding on an energy centre.
---
The next morning, leaving later than planned (which put paid to my original plan, to cycle the whole 200km from Genk to Hoek van Holland), I made it to Fietsen Door Het Water by mid-morning. It was just under 10km from my hotel in Genk, alongside the N75 road. I did notice quite a few 'suspicious' looking hotels, and a bizarrely Gothic-looking building on the opposite side of the road.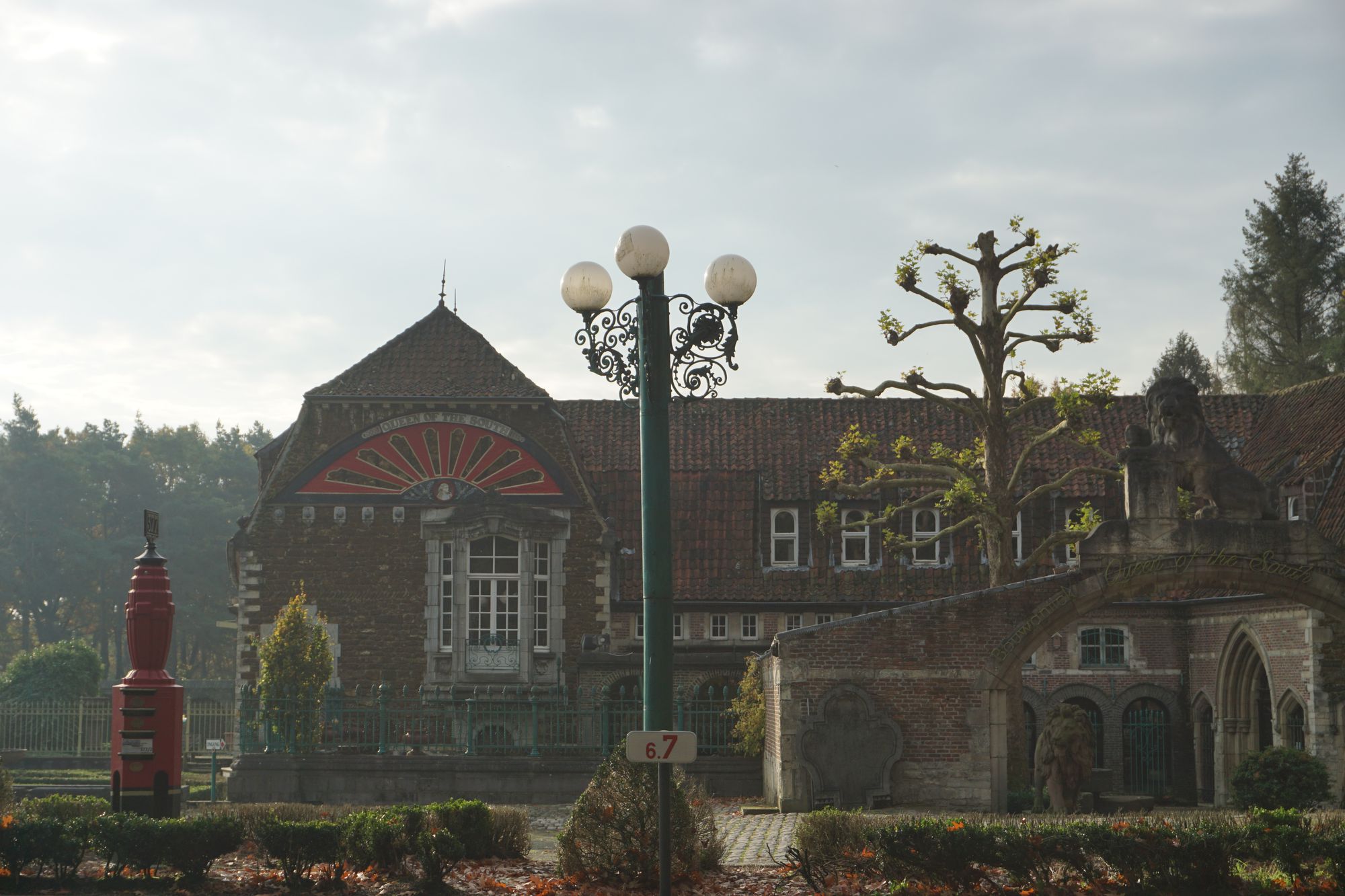 The attraction here is a cycle track that has been 'submerged' in a divide between two ponds: what was once a dyke has been turned into a cutting with a maximum depth of 1.6 metres, so now most adults cycling here (particularly on European-style upright bikes) will see the water, and the associated wildlife, at eye level.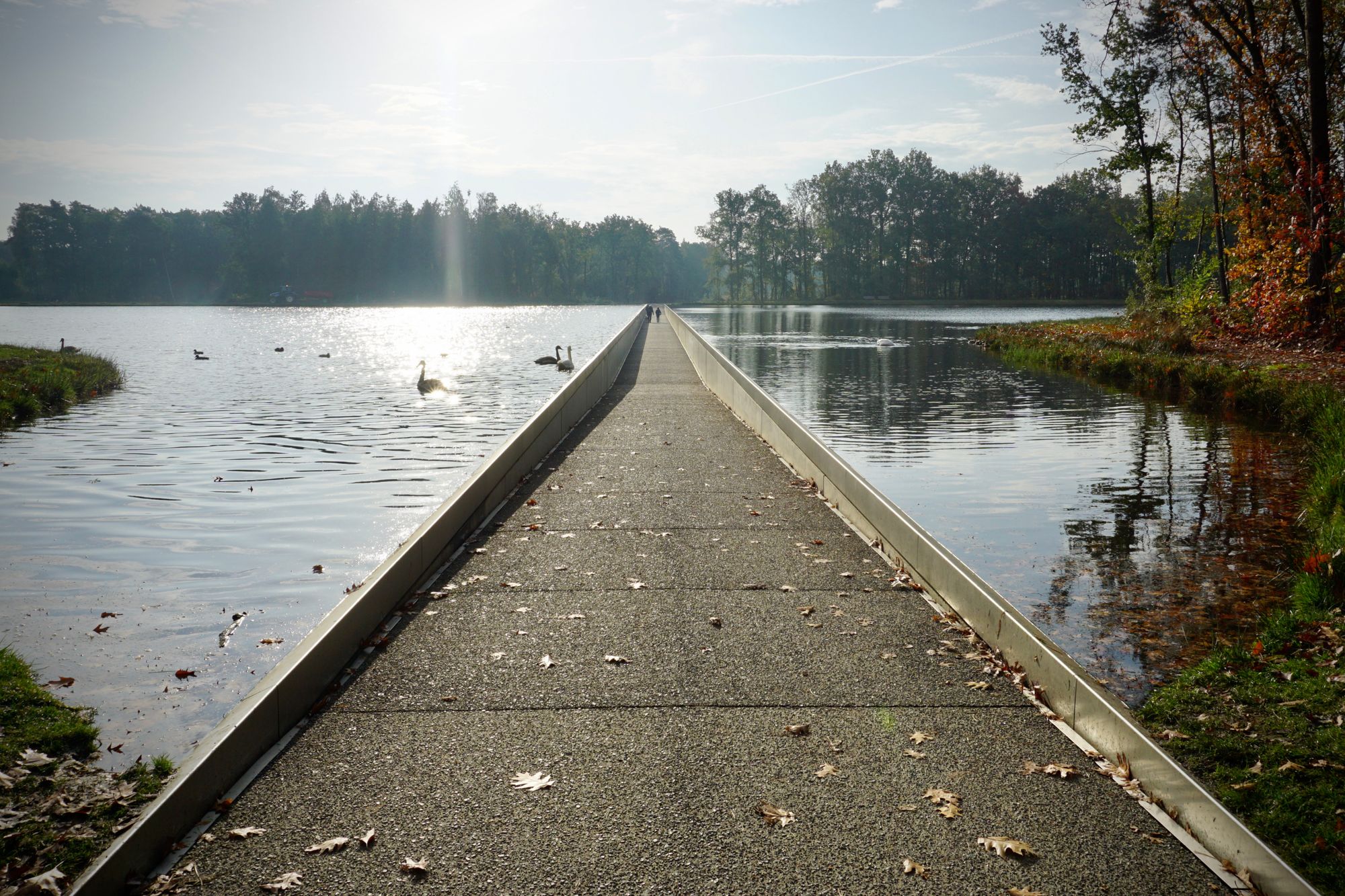 Surprisingly (or maybe not, considering the time of day) I encountered relatively few cycle tourists at Fietsen Door Het Water. There were probably about three or four, all in full lycra. There were a surprising number of walkers, including at least two couples walking their dogs. (I wonder if they came here by car and parked up in the nearby car park? Probably not what the promoters of this attraction had in mind.)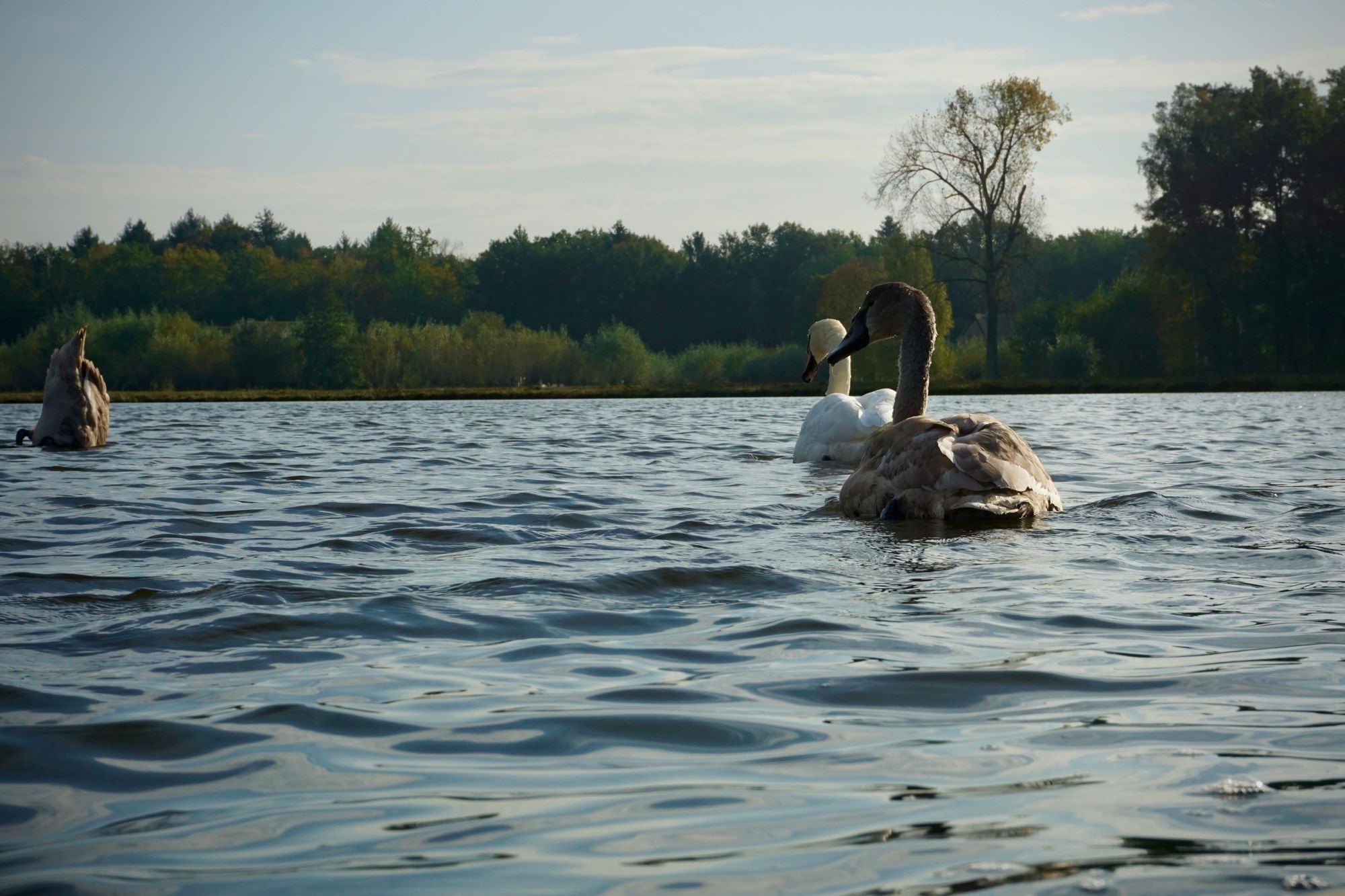 Fietsen Door Het Water has received international attention, and it's clear why. It blends into the landscape no worse than the majority of artificial landscaping from the region, and having a large pond at eye level is truly a novel experience. You normally wouldn't see this unless you were actually in the water. And unlike Fietsen Door de Bomen, this is a two-way cycle track that actually goes somewhere (passing through the Bokrijk park complex)—in principle, if you lived and worked on opposite sides of it, Fietsen Door Het Water could be part of your commute.
---
From then onwards, I had to make a pretty panicked dash to the Dutch border and to Maastricht, to be able to catch the train to Rotterdam before 4pm (after which bicycles aren't allowed on the trains.) It was windy. It was, in places, unpleasant on the Belgian painted cycle lanes (moordstrookje, or murder strips), particularly through the port areas of Genk which were teeming with lorries. In some parts, it was even quite hilly—anyone who tells you Belgium and the Netherlands are 'flat as a pancake' is a liar.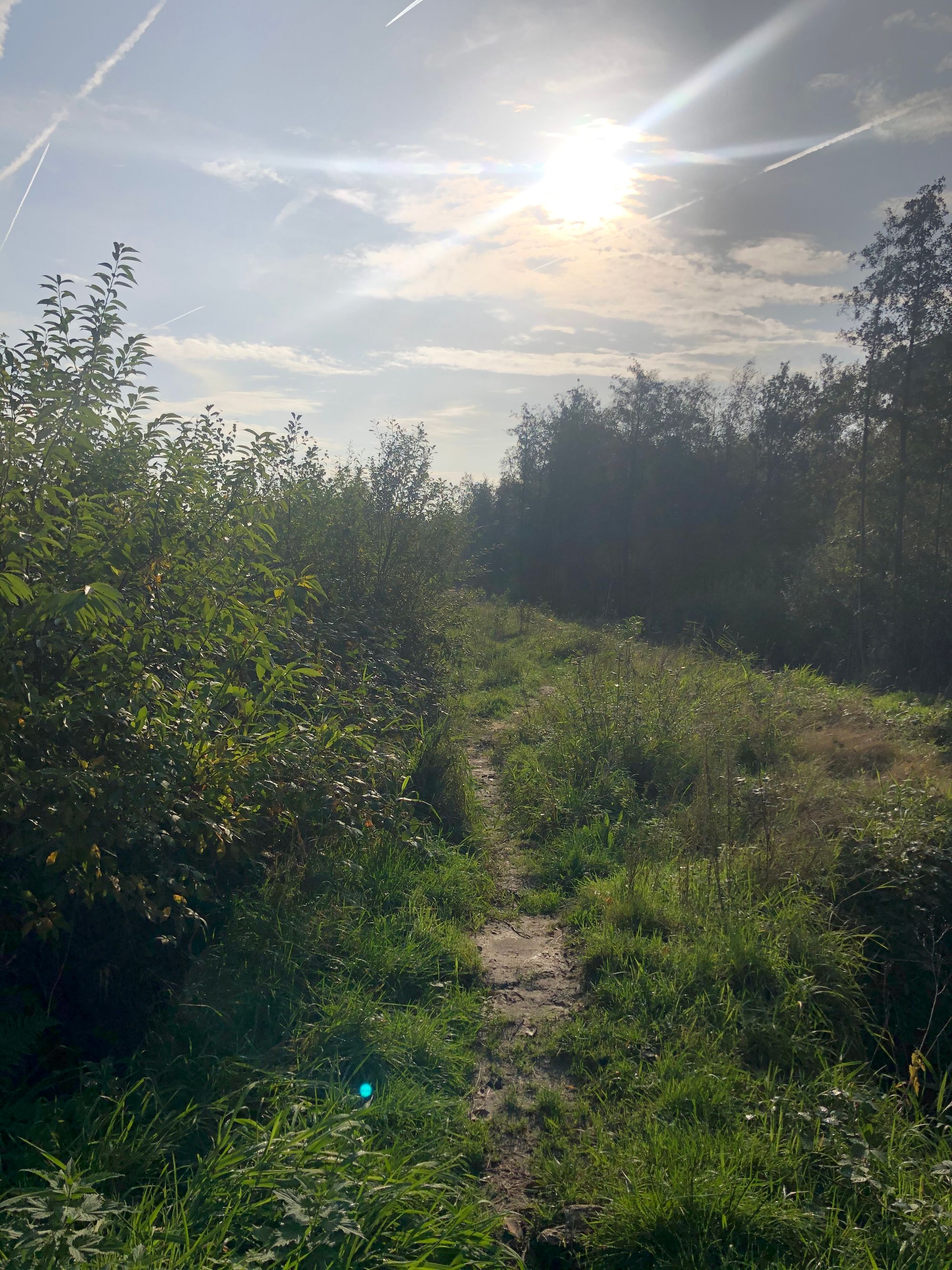 My phone even sent me down something that looked more like a mountain bike trail than an actual road, which made me very nervous about punctures indeed. Thankfully, I survived, and soon made it onto the long, straight canal-side roads, which were (mostly) traffic free.
I made it to Maastricht station with around ten minutes to spare for the train—cutting it much finer than I wish it had been, and feeling like I'd turned my pelvis to dust on the cobbled streets of Maastricht city centre. Had I missed it, it would've been moot as to whether I would've made it back to Hoek van Holland in time for the ferry back to England.
Fietsen Door Het Water is probably less stressful when you're on an organised cycle tour, or when you've brought your bike in a car. While attracting people to Limburg for cycle tourism is admirable (and, at least in my case, it worked) I can't help but wonder if it always has desirable consequences.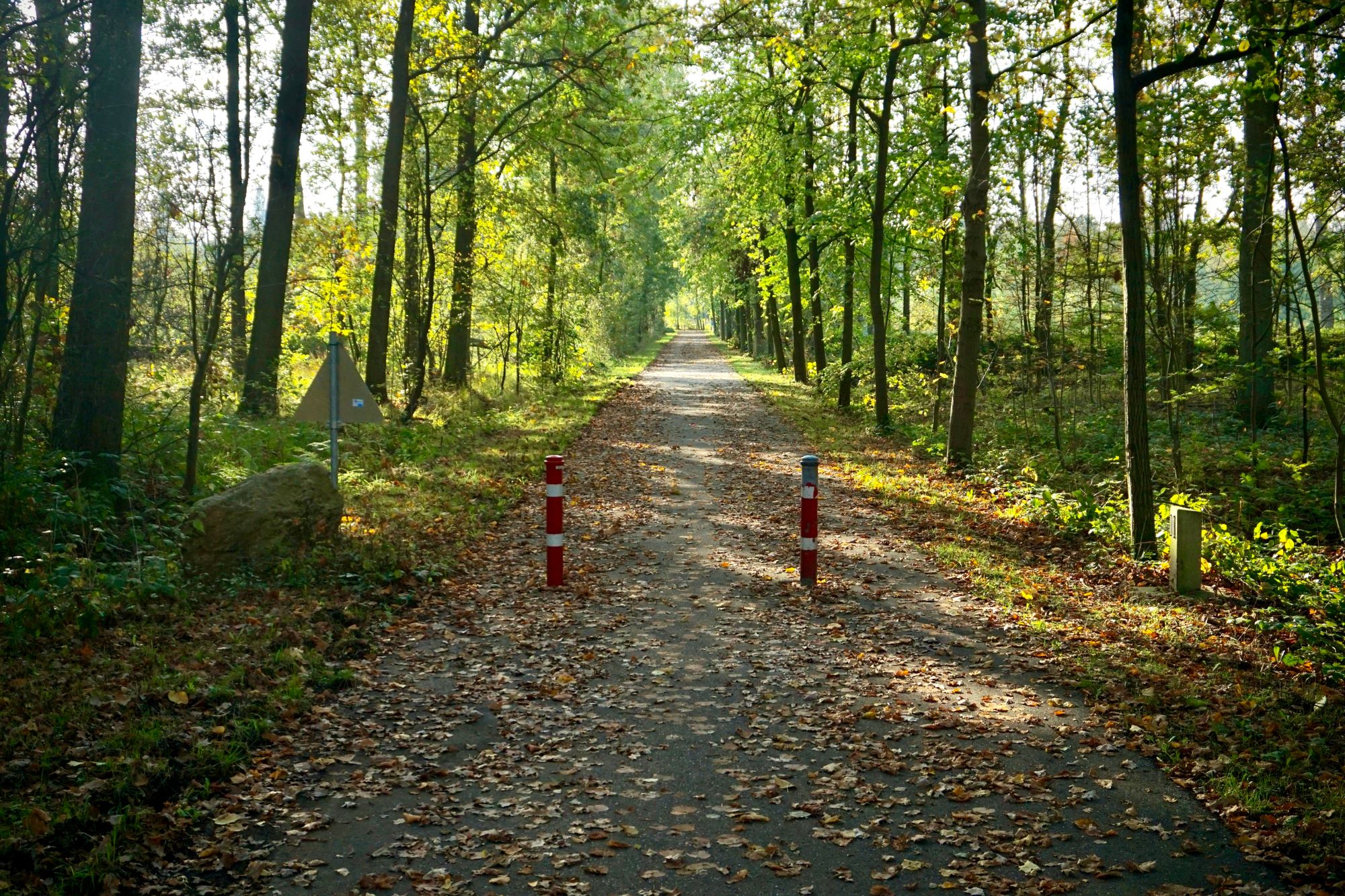 Cross-border rail (particularly when carrying a bike) can be baffling and inconvenient. Belgian Limburg is also just far enough away from any major international railheads (save maybe Maastricht) to make it easy to access without driving. I am very much the exception in choosing to cycle 100km+ from Eindhoven—most people won't want to do this. I was particularly surprised, on leaving Fietsen Door Het Water, to see a car park with a tourist coach parked up. Were they just here to see the submerged cycle path, or the rest of the Bokrijk complex? I couldn't tell, but at least they didn't all drive themselves.
Overall, I had good fun, and I enjoyed experiencing these two attractions. Was it something I'd come over especially for? Probably not, if I wasn't already the kind of person to take my bike on a ferry to ride it around in another country. And, if nothing else, after cycling 60+km to get to Fietsen Door De Bomen, I really fancied a burger and frites.