The Balearics or Bust: London to Mallorca without flying
That time I went to the Balearics without flying and probably unintentionally emitted more carbon by doing so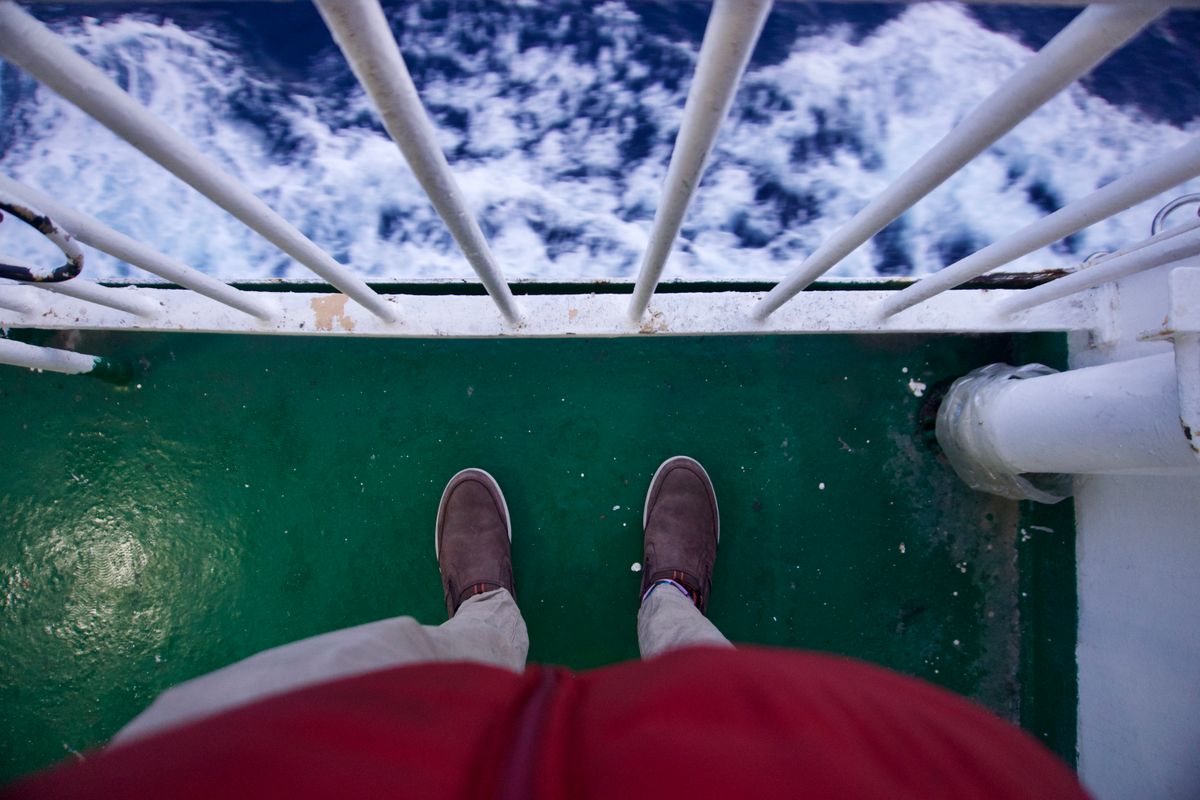 Every year, my company downs tools for a week and decamps to a hotel for a week of training and an internal conference. Usually, if it's in mainland Europe, that involves flying.
I try to avoid it. I hate the rigmarole of flying. Partly because airports are awful places seemingly designed to induce maximum stress; partly because I'm increasingly concerned about the environmental impact (there's a case for the Swedish flygskam movement becoming more widespread.)
This year, I worked out a route from London to Palma de Mallorca using The Man in Seat 61's guide to travelling to Spain by train. The route seemed simple enough:
Travel by Eurostar from London to Paris;
Cross Paris to the Gare de Lyon, and take a TGV to Barcelona;
Take an overnight ferry from Barcelona to Palma.
I left my flat just after 8:15am on Saturday, taking a suitcase and a backpack. I live in Stratford, which means I'm very lucky to have the High Speed 1 service to St. Pancras. Getting to the Eurostar in time to check in was pretty easy, even if the security check was a pain.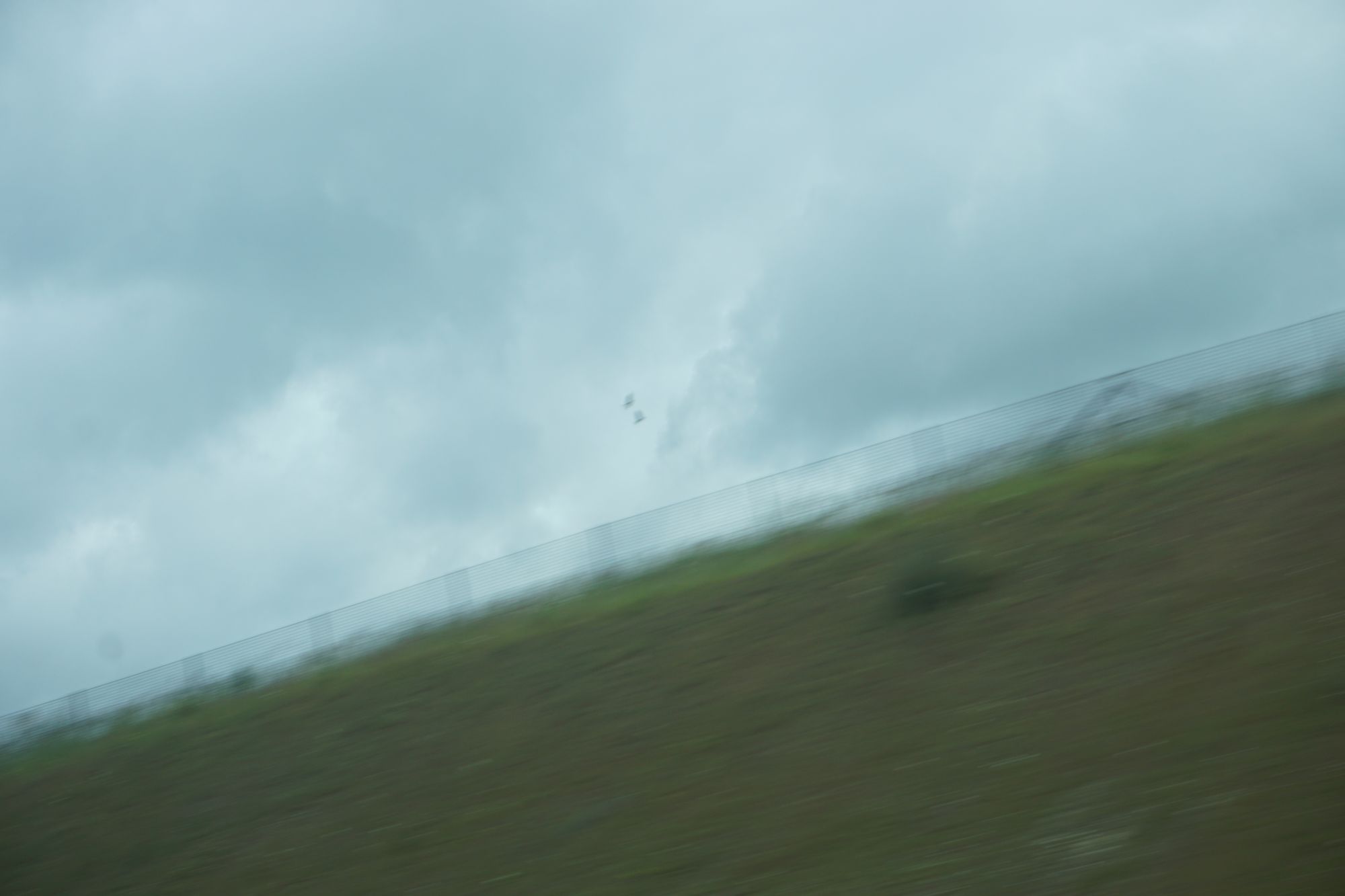 I always feel surprised by how long the Eurostar seems to take to get to Paris or Brussels. It is, of course, much faster than the domestic inter-city trains I'm used to (and none of those infernal tilting Pendolinos to give me travel-sickness). So I always feel a little disappointed when it has exactly the same minor annoyances as British trains: screaming children, dirty toilets, bad mobile reception. Oh well. It's still miles better than flying.
The RER transfer across Paris from Gare du Nord to Gare de Lyon felt harder than it should've been. I rather foolishly tried to buy tickets from the first ticket machine I came to, and got stuck behind a queue of tourists, each of whom had various problems (wouldn't accept their foreign card; didn't understand how to switch the machine into their own language; kept getting their PIN wrong.) And actually finding the platform was tough. The wayfinding signage for the southbound line D is only visible once you're right in front of the closest gateline.
Once at Gare de Lyon and in the correct seat on the train, everything went reasonably smoothly. The double-decker TGV to Barcelona runs through Nîmes, and then (non-stop) through Sète, on the narrow strip of land between the Étang de Thau and the Mediterranean Sea. This makes for some stunning, albeit fleeting, views of the lagoon from the buffet car.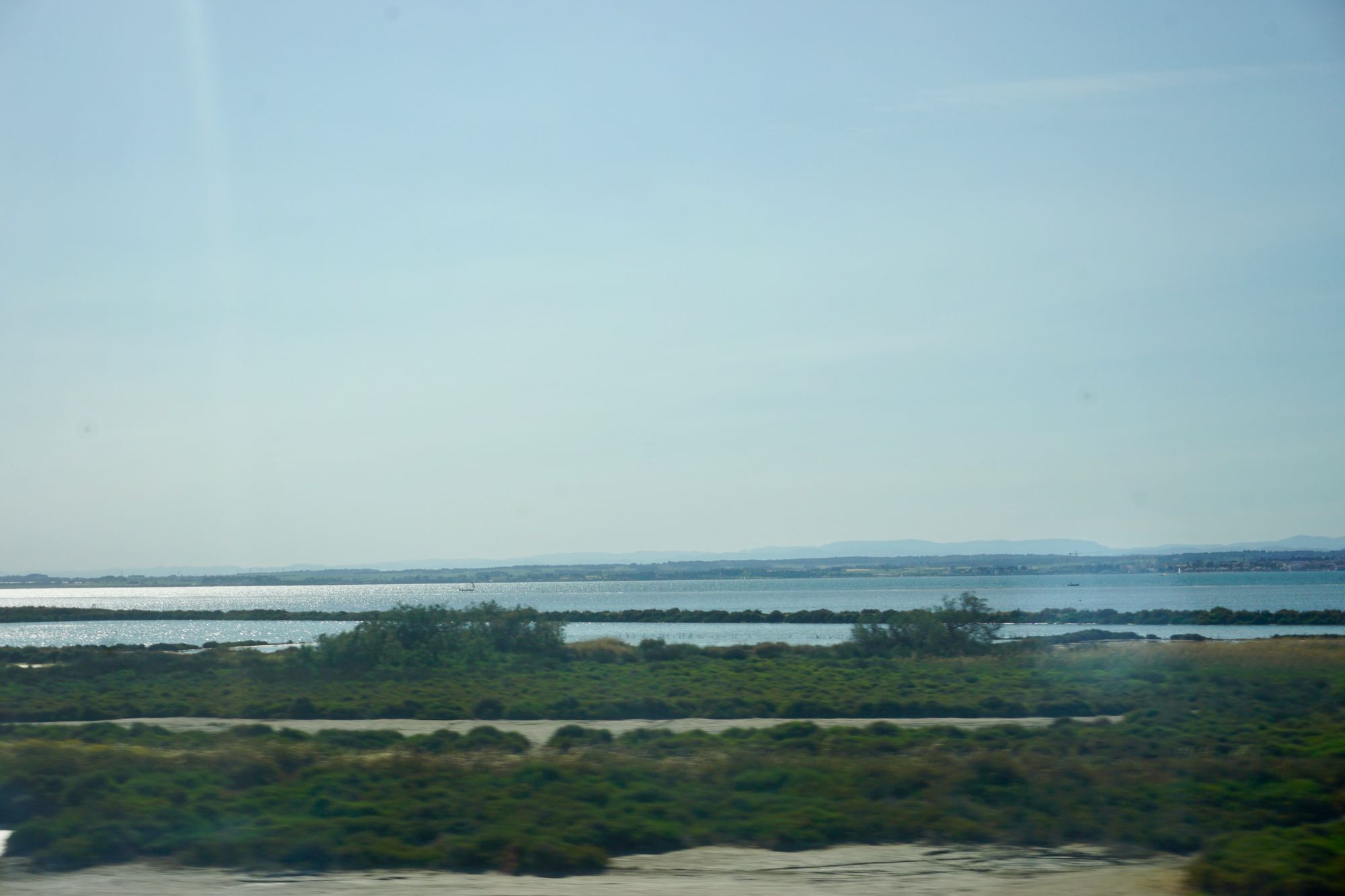 As pleasant as the TGV environment is, six and a half hours is a long time. You can stand up and walk around, of course, unlike on a plane… but it's a long time to kill. Quite brilliantly, the TGV Wi-Fi portal seems to have a selection of mini-games, streaming media, and—bizarrely—an internal chat service. (I didn't try this. It didn't work with my foreign ticket anyway.)
In the end, I muddled through with an audiobook of Ann Leckie's The Raven Tower, and a physical copy of Jools Walker's Back in the Frame. Both of them are great. Trying to stay awake on a train, though, made it difficult to enjoy them. Next time I'll queue up a few films to watch—or maybe splash out on first class, and a blindfold so I can sleep.
I arrived in Barcelona at 20:34. I'd already checked in for the ferry online, so that gave me an hour and a half to cross Barcelona and present my boarding pass at the Trasmediterránea terminal. Rather than taking a taxi, I decided to walk via Plaça d'Espanya. At sunset, Barcelona was stunning.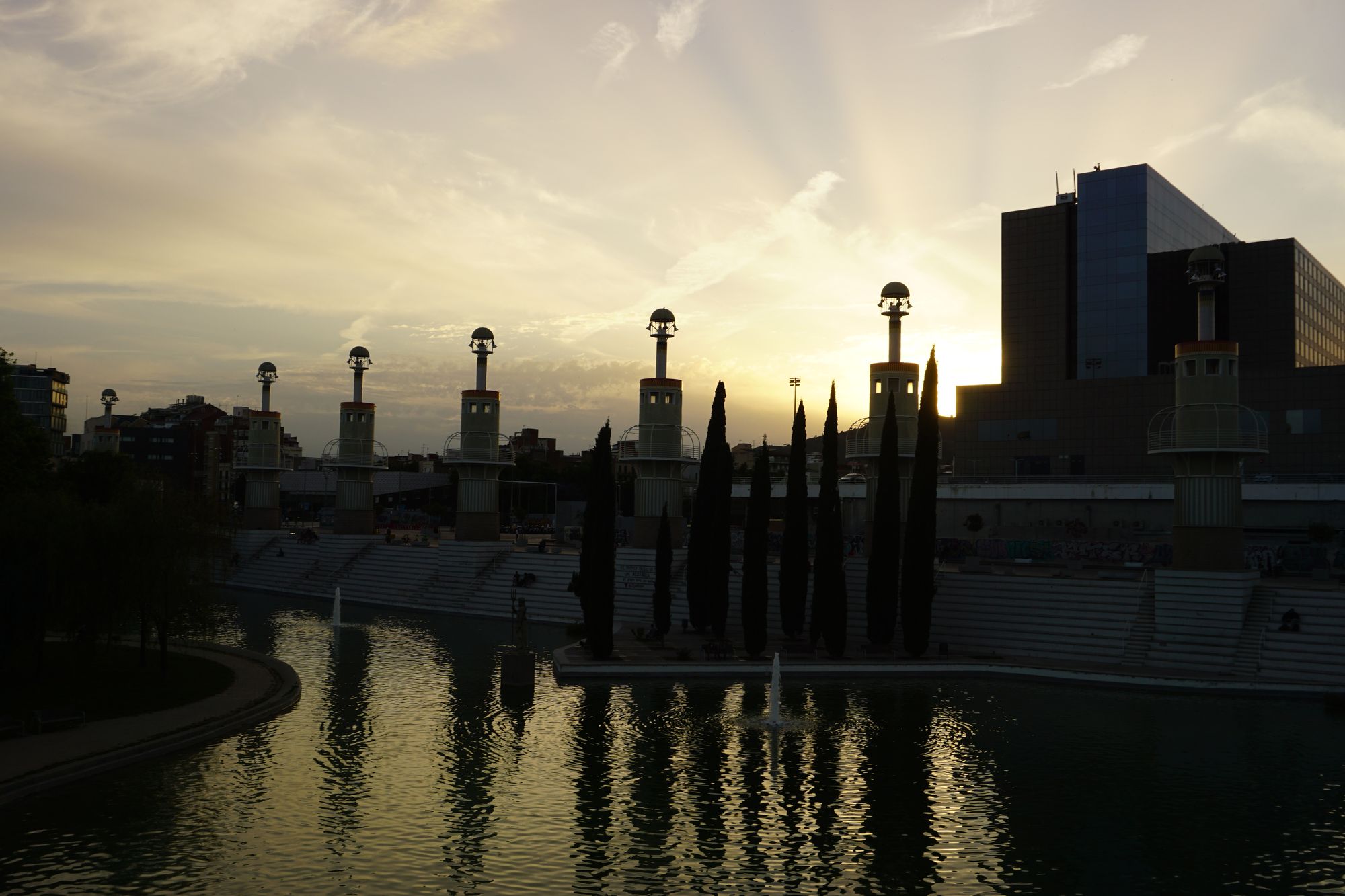 I arrived at the ferry terminal in plenty of time. Too much, maybe. I was left sitting on my suitcase until a throng of people started moving towards a boarding gate. A crowd of schoolchildren (presumably on their first big trip away from home) was waved off, and filmed, by their parents as they handed their boarding passes to the agents.
The boarding experience at Barcelona ferry terminal felt uncomfortably like flying. We were placed onto a coach, to be bussed approximately two hundred metres to the ferry itself—at which point we had to get off and walk up the ramp and onto the car deck ourselves, with our luggage. This seemed to be solely so we wouldn't have to walk on the tarmac amongst moving cars. It worked, I guess, but it was awkward: a gangway would've been better.
The ship was Volcan de Tijarafe, which was apparently launched in 2007. I was grateful for the plug socket in the ship's restaurant so I could charge my phone. More disconcerting was that the safety video was played straight from a DVD—and once it was done, they put on a Disney film (I think it was Big Hero 6.) Presumably to keep the children entertained.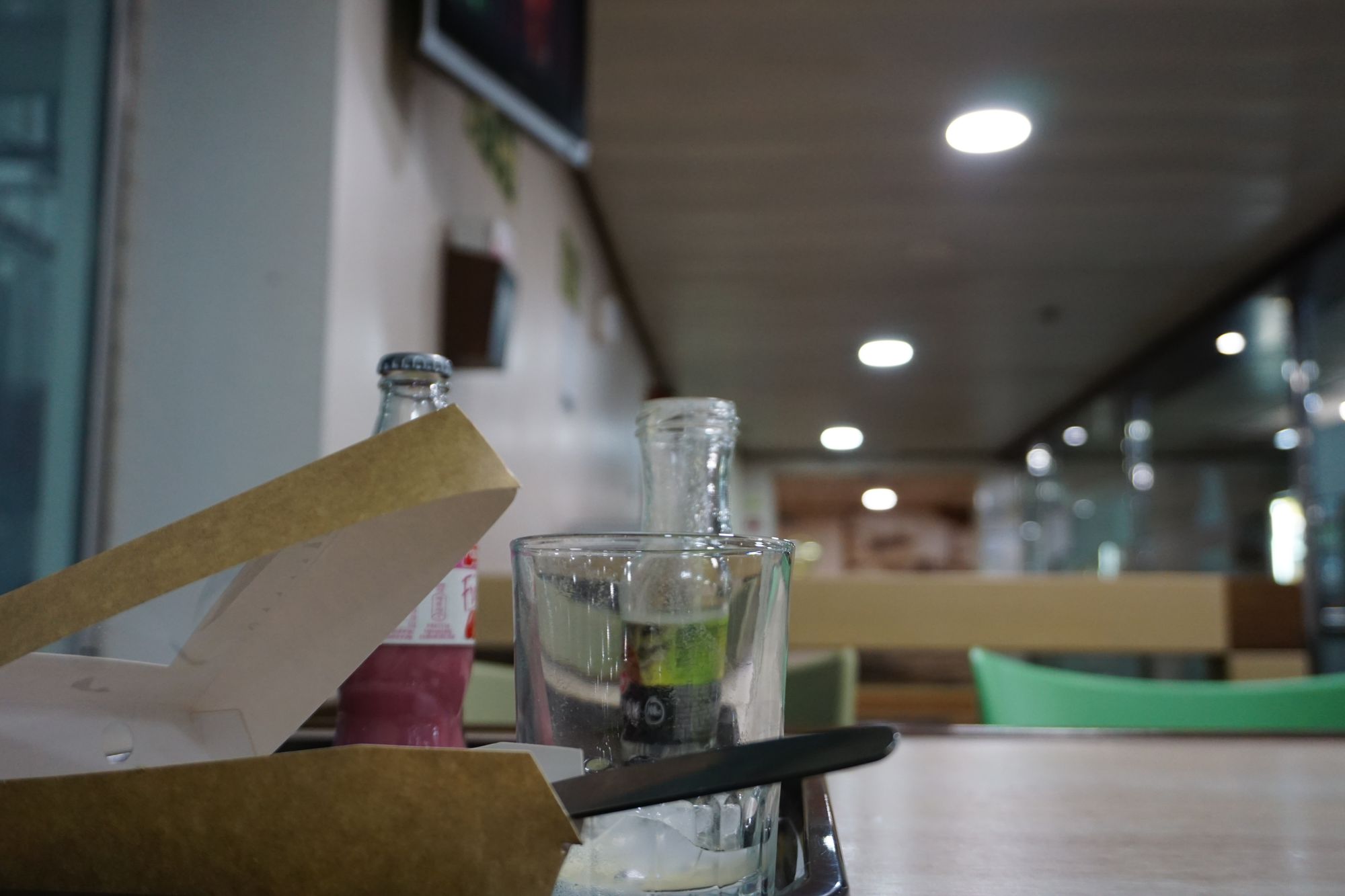 One thing about the restaurant on the ferry (and this also applied to the buffet on the TGV): British Mastercard debit cards don't seem to work. Fortunately I had cash, because the card machines on the TGV and the Trasmediterránea ferry refused to accept my Monzo card. (I didn't try a different card—maybe a credit card would've worked better.)
By the time I booked my ferry tickets, all the cabins were booked up, so I spent the overnight journey in the restaurant and on the reclining seats. I can't recommend the experience. Bring a good pillow and a blindfold, and be ready to climb the stairs to find a toilet that isn't occupied.
The good news was that by the time I'd woken up, and drunk a (very bitter) espresso from the bar, it was worth going outside for a gust of fresh air and a glorious sunrise over my first glimpse of Mallorca.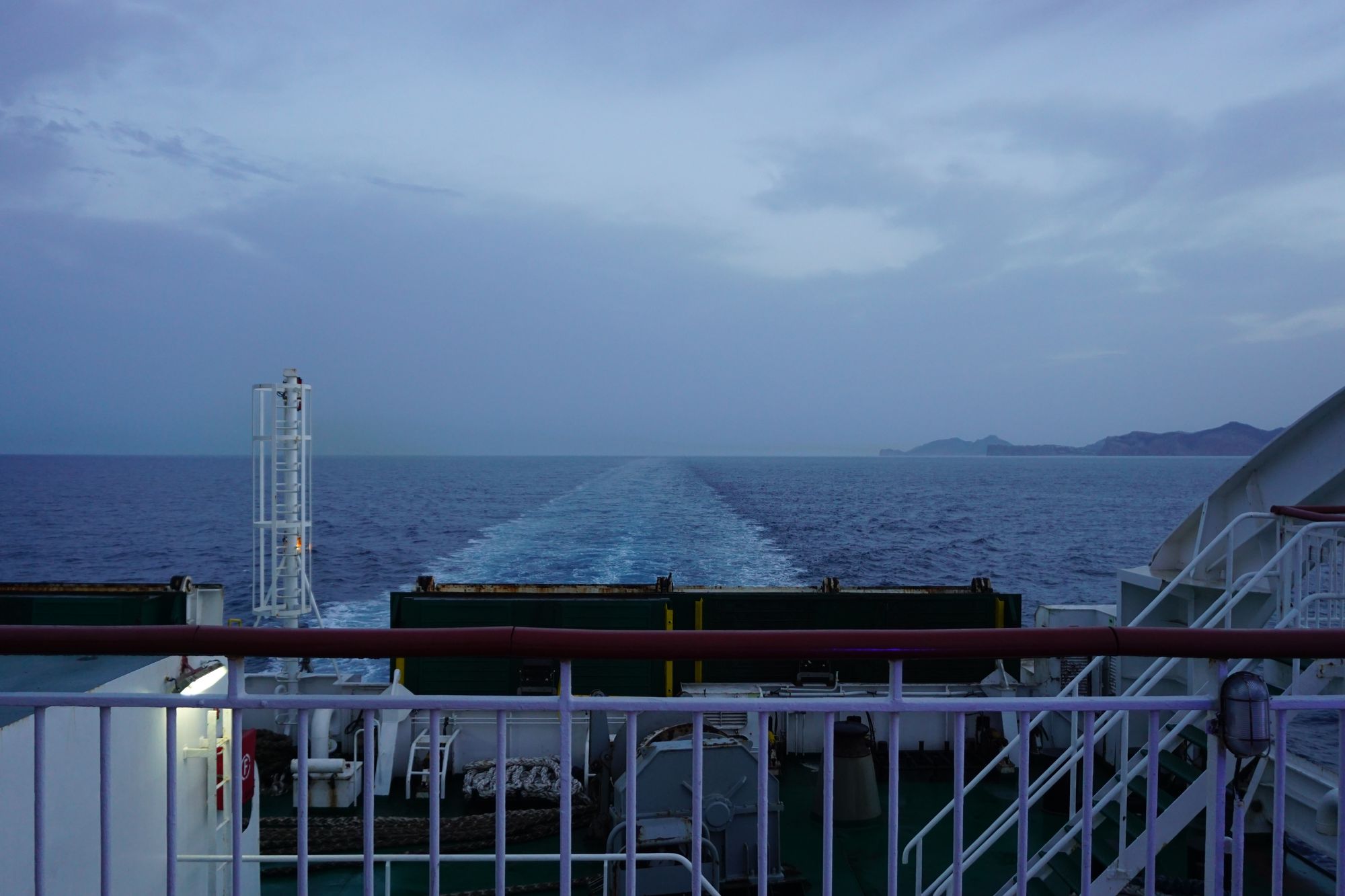 Our arrival was a little later than planned, but I was off the ferry and walking through Palma to the hotel by 8am. After that, it was a short walk to the hotel to drop my bags, and straight to the sandy beach at Cala Major.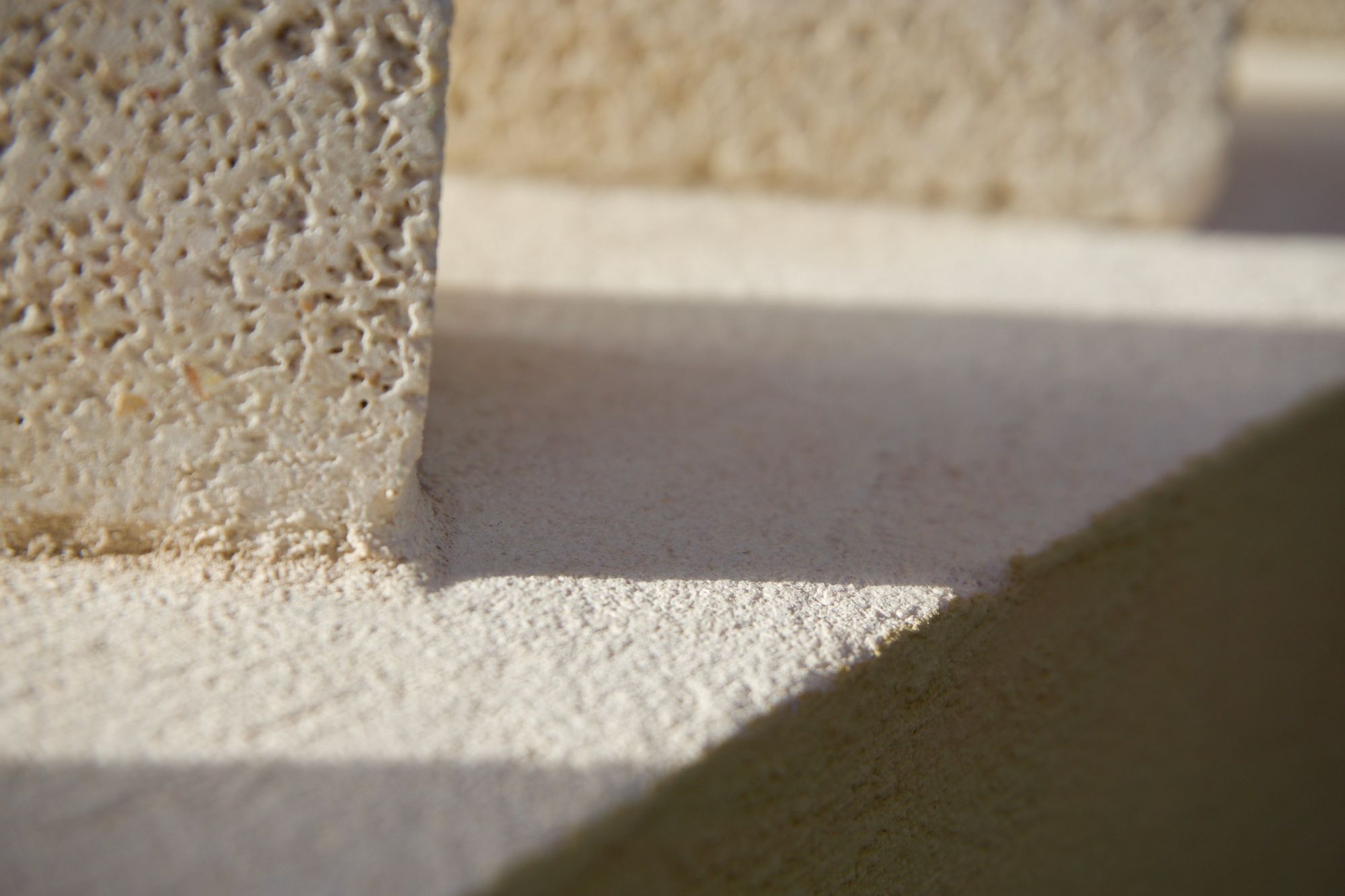 The nitty gritty details: When, how much, does it kill the planet?
The whole itinerary
I left my flat on Saturday morning, and arrived in Palma de Mallorca on Sunday morning. The journey took just under twenty-three hours. The itinerary was:
08:28 from Stratford International, arrives London St. Pancras 08:35
09:24 Eurostar from London St. Pancras, arrived Paris Nord 12:47
Cross Paris by RER (two stops on line D southbound—about ten minutes)
14:04 TGV from Paris Lyon, arrived Barcelona Sants 20:34
Walk across Barcelona (around 45 minutes to an hour)
23:00 Trasmediterránea ferry from Barcelona, arriving Palma de Mallorca 07:00
On the way back, the journey looked like this:
23:55 Trasmediterránea ferry from Palma de Mallorca, arriving Barcelona 07:30
Walk across Barcelona (around 45 minutes)
09:25 TGV from Barcelona Sants, arrived Paris Nord 15:53
Cross Paris. I could've got the RER, but decided to kill time by walking along the Seine and then through Le Marais.
19:13 Eurostar from Paris Nord to London St. Pancras, arriving 20:34
21:12 from London St. Pancras to Stratford International, arriving 21:19
Sleep!
Cost
The whole journey cost £292.50 for the train, £121.98 for the ferry, and around £1.68 for the cross-Paris RER transfer on the outward leg. This meant the total cost was £416.16.
I was able to expense some of this cost with my employer, which softened some of the hit. However, I do recognise that I'm privileged to be able to do that—and that I'm privileged in being able to afford to travel like this at all. These fares, while decent value, are not 'cheap' compared to the cost of a direct flight from Gatwick or Stansted.
This will be something worth considering as the flygskam/no-fly movement grows. Rail travel across Europe needs to become significantly cheaper and easier to purchase. Britain isn't alone in having expensive, often inscrutable rail fares.
Tickets
Cost
London to Paris
(Eurostar, Standard, semi-flexible)
£89.50
Paris Nord to Paris Lyon
(t+ single for RER)
€1.90 ≈ £1.68
Paris to Barcelona
(TGV, Standard, semi-flexible)
£87.50
Ferry Barcelona to Palma return
(Trasmediterránea, reclining seat)
£121.98
Barcelona to Paris
(TGV, Standard, semi-flexible)
£60.50
Paris to London
(Eurostar, Standard, semi-flexible)
£55.50
About that carbon footprint…
I didn't calculate the carbon footprint for this journey. But one of my reasons for getting the train was to avoid the enormous carbon emissions associated with flying.
I did avoid flying, but I do suspect my carbon footprint was actually quite high for this journey. (A few people in the office think my carbon footprint was probably higher than someone travelling on a reasonably modern plane.) There's one reason for that: the ferry.
Over the last few decades, aircraft manufacturers have spent a considerable amount of money and effort on making their machines more efficient. That same effort has not been put into making passenger ferries more fuel-efficient. Ships burn some of the dirtiest fuel around, and also have to haul masses of passenger facilities (cabins, restaurants, toilets, a tiny and uninviting-looking swimming pool) across the sea.
Getting an actual figure for the ferry is difficult, and it's not an exact science. The shipping line does not publish any fuel consumption or efficiency figures for Volcan de Tijarafe—only a horsepower rating for the engines. CarbonIndependent.org suggests a figure of up to 0.75kg/mile for a long distance ferry. I wasn't travelling with a car or in a cabin, but it was an overnight ferry, so let's work based on that assumption.
Eurostar London to Paris (return)
Source: seat61.com
22 kg
TGV Paris to Barcelona
(3.2g/km × 1,073km × 2)
6.86kg
Ferry Barcelona to Palma
(0.75kg/mile × 153 miles × 2)
229.5kg
Grand Total

258.36kg
To my eye, some of these figures look a little suspect. I can't fathom why a double decker TGV's CO2 emissions would be only 3.43kg as opposed to the 22kg for the Eurostar journey. But, as I said—this isn't supposed to be an exact calculation. It can't be. It's just a guess.
It also doesn't include everything. It doesn't include the montagnard sandwich I had at Paris Lyon station. It doesn't include how, on the way back, the transfer bus at the ferry terminal sat idling on the tarmac for an hour and a half. (Interestingly, studies suggest that idling and congestion are not correlated, or only weakly correlated, with CO2 emissions; the key driver for CO2 emissions is journey length.)
This journey does not compare especially favourably to flying:
So, what does this show? Perhaps it shows we need to make ferries considerably more efficient. Perhaps it shows that large carbon footprints are inevitable when travelling long distances (especially across water), and the only sure-fire way to bring them down is to stop travelling.
All being said and done, I did enjoy the journey, for all its ups and downs. After a total of around 33 hours in moving vehicles, though, I'm not in a hurry to do it again.