The Dun Run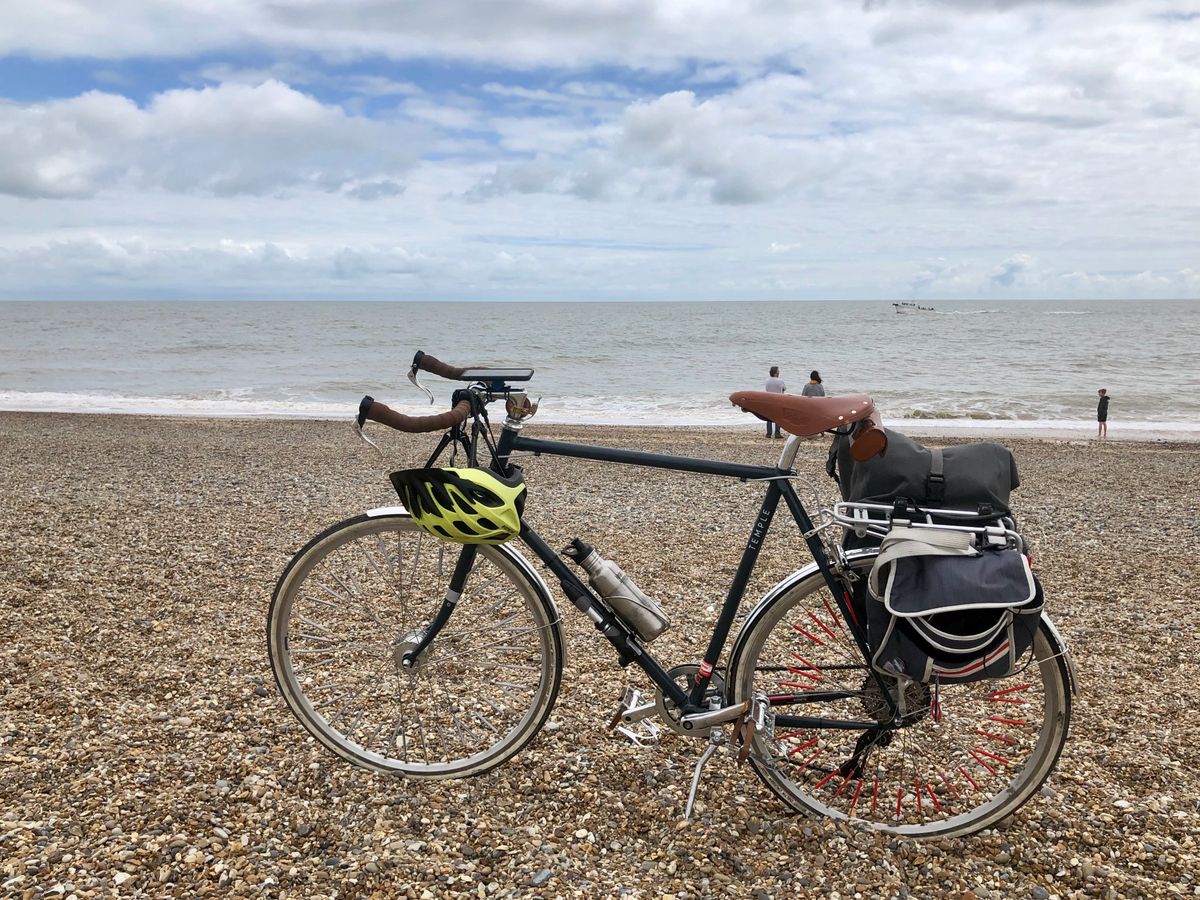 I am not a sports cyclist at all. I am slow. Most days I ride a Gazelle (a Dutch granny bike with a massive crate on the front) to work, at an average speed of around 13km/hr. That's fine. But I'm also someone who likes doing stupid things occasionally.
I first heard about the Dunwich Dynamo, an annual, semi-organised overnight ride from London to Dunwich in Suffolk several years ago. This year seemed like as good a time as any to actually attempt it: I had a free weekend, I'd done some longer rides in the run-up and wasn't concerned about my ability to not complete the ride. Paul Battley's and Nat Buckley's write-ups of the 2016 ride were helpful, as was the advice I got from various folks on Twitter when I sent out a call for suggestions.
It was fun! It was exhausting. It was also a bit of a disaster for me: it took me longer than I expected to get to Dunwich, I took more than I really needed, and I left later than planned, so I only arrived at around 11:45am. But I made it. I'm writing these notes up for the benefit of anyone else who wants to try it, and for myself when I inevitably try and do it again.
The bike
I rode the Dynamo on Taran, my Temple Cycles light touring bike. They are a Lightweight Classic bike with a hub dynamo on the front wheel, front and rear dynamo Busch + Müller dynamo lights, luggage rack on the rear, and 1×9 dérailleur gearing.
Having dynamo lights was super helpful. The ride is called 'the Dynamo,' yes, but most people seem to use battery-powered lights they have to keep recharging. I could just keep going through the night without having to recharge my lights, and instead concentrate on keeping my phone and camera charged.
The major problem I had with the bike was with the mudguards. They're very slender around the tyres, and I have had intermittent problems with the rear mudguard coming loose before. At one point during a descent one of the bolts came loose, resulting in a horrible rubbing noise. I lost around ten minutes stopping, fixing it, and starting up again. I might take the mudguards off in future, which would probably also allow me to run slightly wider tyres.
Another problem was with the single front chainring. The chain sometimes jumped off. It has a chain guard on the front chainring, which meant it usually fixed itself after a few attempts to shift up and down, but it was annoying. I'll need to look into fixing this.
Aside from these small niggles, the bike was great! And the chain never fully came off, which was a relief (I've spent far too long re-mounting the chain on my other dérailleur bike when it's popped off on the way up a bridge.)
For directions, I used my phone, mounted to the stem with a Quad Lock. I took a portable battery pack with me to recharge the phone and my camera throughout the ride.
The ride
I set out later than I'd hoped from London Fields. Typically people depart from around 8pm; I'd planned to leave around then to account for the fact I knew I was slow. In the end, trying to get a little sleep beforehand, and eating a microwave spaghetti carbonara, meant I didn't get to London Fields until around 8:40pm. I bought a route card, selected the Dunwich Dynamo GPX route file I'd exported from Strava into CycleMaps, and set off.
Rather foolishly, I ignored my local knowledge and followed a small crowd of other cyclists, which meant I made my first wrong turn (into Bohemia Place Market) less than a mile from the start at London Fields. It was easier once I turned back, and turned onto Powerscroft Road/Quietway 2, which I use all the time; and then onto Lea Bridge Road, with its delightful and smooth (if mostly unfinished) cycle tracks.
An unintentionally long stop for cash meant it was getting dark by the time I hit Woodford New Road and Epping New Road. This section of the A104 does have a cycle lane, but it's a narrow strip of rough asphalt at the edge of the carriageway, marked only with paint and cat's eyes. Occasionally it dives into an even worse shared pavement. Riding here was not fun.
Once I was through Epping, however, and outside the M25, the roads became considerably quieter. Drivers were mostly considerate and waited patiently for an opportunity to overtake (although it's never a nice or relaxing experience to cycle in front of a car.)
One truly bizarre moment came at the halfway point, where a giant haystack appeared to be on fire in the distance. I don't know if this was connected with the Dynamo or not, but the police seemed to be in attendance; from what the people running the Only Foods and Sauces(!) food van said, the fire had been burning for several hours.
Food
I took too much food with me, and ended up ignoring some of it in favour of stuff I bought en route.
A bag of bananas was great, and very good for a quick and filling snack. (Finding somewhere to dispose of the peel was less easy.)
I got through a bag and a half of jelly babies. Great as a pick-me-up (although probably not for my teeth.)
Before leaving, I made myself some paté sandwiches for emergencies. These turned out to be a godsend at around 7am in the morning, when I was still at Needham Lake (between 40-50km away) and needed calories.
I also bought and ate:
A cheeseburger;
A Twix bar and a Mars bar;
A flapjack;
Three(?) cups of coffee (surprisingly few);
A fantastic raspberry and chocolate brownie from Kettleburgh. I ate the brownie and drank some coffee while saying hello to a local dog.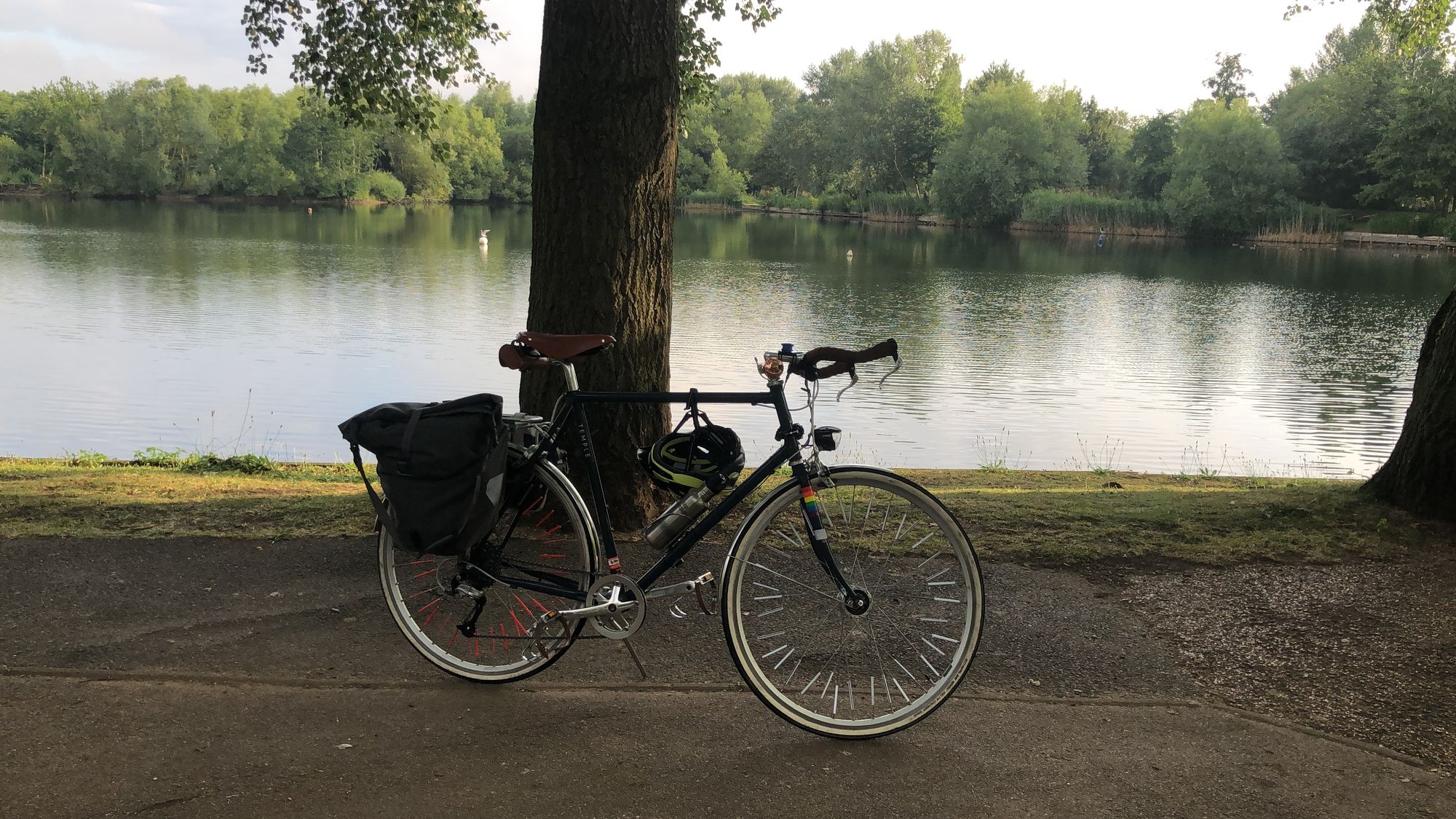 What I emphatically did not need was to bring as much water as I did. I had a reusable bottle with me which I kept in my bottle cage, but brought a 2l bottle in my bag in case I couldn't find a refill. In practice, everywhere was happy to refill my existing bottle, and I didn't drink as much as I thought I would. This certainly slowed me down on the hills!
Clothing
I looked past my aversion to cycling gear and bought a pair of bib shorts earlier this year. They don't look good, but they were a good investment. I like Rapha's core cargo shorts for their roomy pockets. The fact they were bib shorts (with braces over the shoulders) also meant I didn't have to worry about them slipping down.
I alternated between wearing a cotton t-shirt, a windproof jersey/jacket over it, a hi-vis waterproof jacket over that, and just the windproof jacket, throughout the ride. The weather turned rainy for some short periods, but it was never unpleasant, and even with exposed knees I was never cold.
I always have a problem with cycle helmets in that I can't wear them for more than a few hours without them becoming uncomfortable. I stopped for a little every hour or so anyway, so this allowed me to take the helmet off and let my head free for a while.
The Journey
Having the directions on my phone, and seeing the decreasing remaining distance figure in the corner, helped keep me going. So did meeting a few strangers en route, and riding with them for a while.
An important psychological barrier for me was after the first 70km, when the remaining distance ticked over to 110km. I believe this is the most I've ever done in a day, so having that as a 'known quantity' helped.
What also helped me (although did slow me down) was the regular breaks. In the morning, for instance, I spent a while at Needham Lake to eat a sandwich, call my partner, and psych myself up for the remaining 40km.
What I hadn't expected was the local residents who stood on street corners (often children) to cheer us on. This was a nice surprise in the early miles. In the morning, it was lovely when passing members of the public, out walking their dogs or off to the shops, mouthed 'well done' at me—although maybe out of a sense of pity, since I'd arrived so late!
I eventually made it to Dunwich Beach at 11:45. I pushed my bike onto the shingle, relaxed for a bit, then presented my bike for loading onto the lorry back to London. I did consider going for a swim in the sea—it was a shame to have brought my swimming trunks and not gone in—but in the end, I felt too shattered to bother wading into the sea, and settled for eating a plate of fish and chips at the Flora tea room with a few of my new friends.
I changed into a fresh t-shirt and jeans for the coach ride back to Southwark, and the bike ride from there to St. Pancras. The coach was less hellish than I was expecting: a toilet break at a service station meant we arrived at the same time as the bikes. Something I do keep forgetting, and only remember when I'm on a coach, is exactly how much of east London's infrastructure is designed for the fast flow of cars and other motor vehicles, and how little is designed for the convenience of walking and cycling.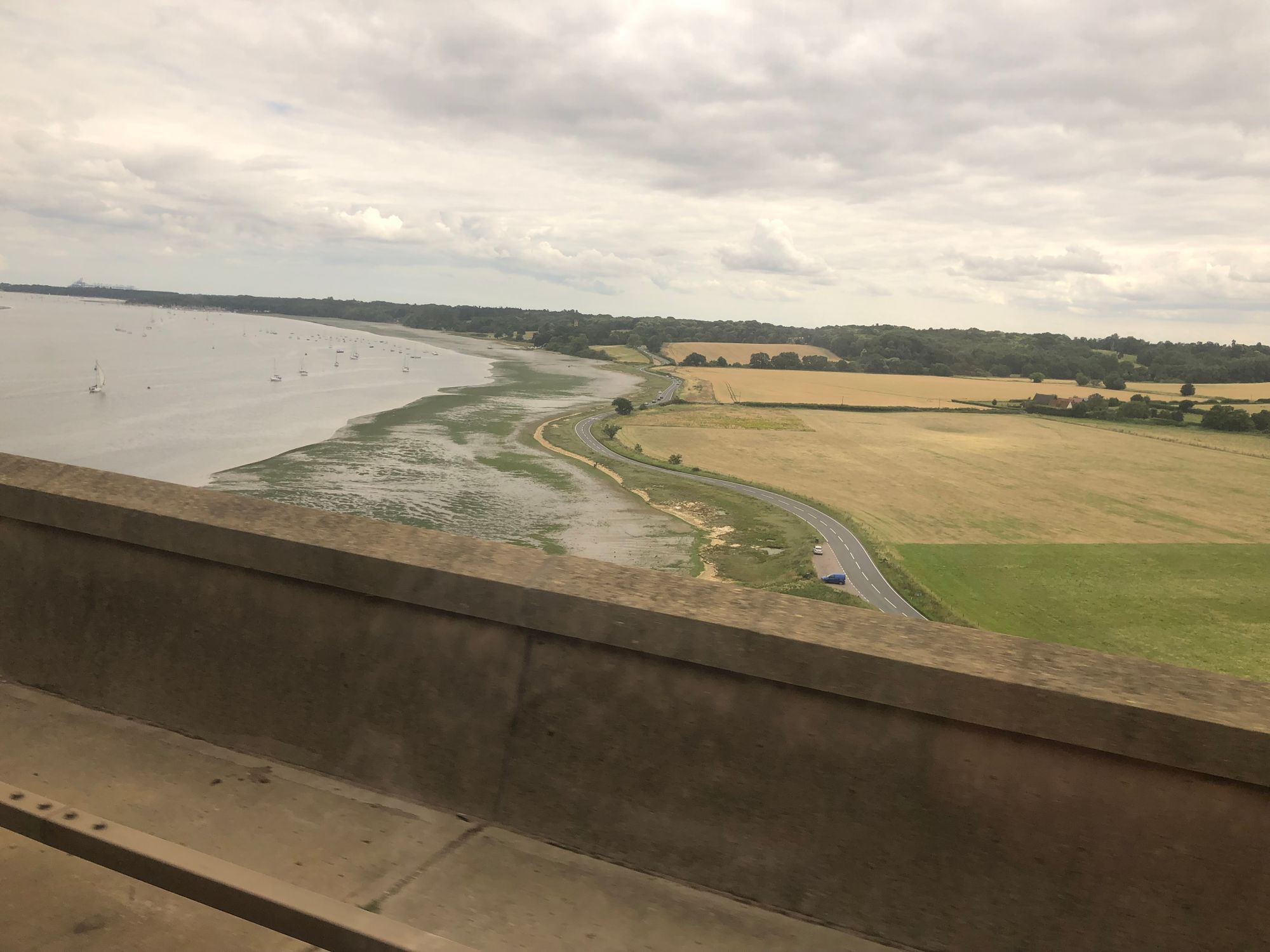 So that was my Dun Run experience—slow, steady, but it wasn't a race, and I made it to the end. I may give it another go next year. But we shall see…
Statistics
Total distance cycled: 183.65km
Average speed: 16.3km/h
Maximum speed: 42.5km/h
Elapsed time: 14 hours, 58 minutes, 43 seconds
Moving time: 11 hours, 15 minutes, 13 seconds
Elevation gain: 1,337 metres
Average heart rate: 125bpm
Notes to myself, for next time
Leave earlier.
Don't bring a 2-litre bottle of water. You can re-fill a normal water bottle en-route. (Unless Brexit makes clean drinking water a scarce resource, which is not unlikely.)
Take the mudguards off and invest in some slightly wider tyres, which should at least make Epping New Road a little less awful.
Bring another camera. I took my phone (good enough for daylight, but not quite up to scratch at night) and a GoPro to capture video. I may properly edit the video and add a soundtrack at some point, but I don't have the patience, time, or file storage space to do that right now. I wish I'd had my mirrorless camera with me, particularly to capture the bizarre hilltop fire.