Weeknotes 2022.36: How times change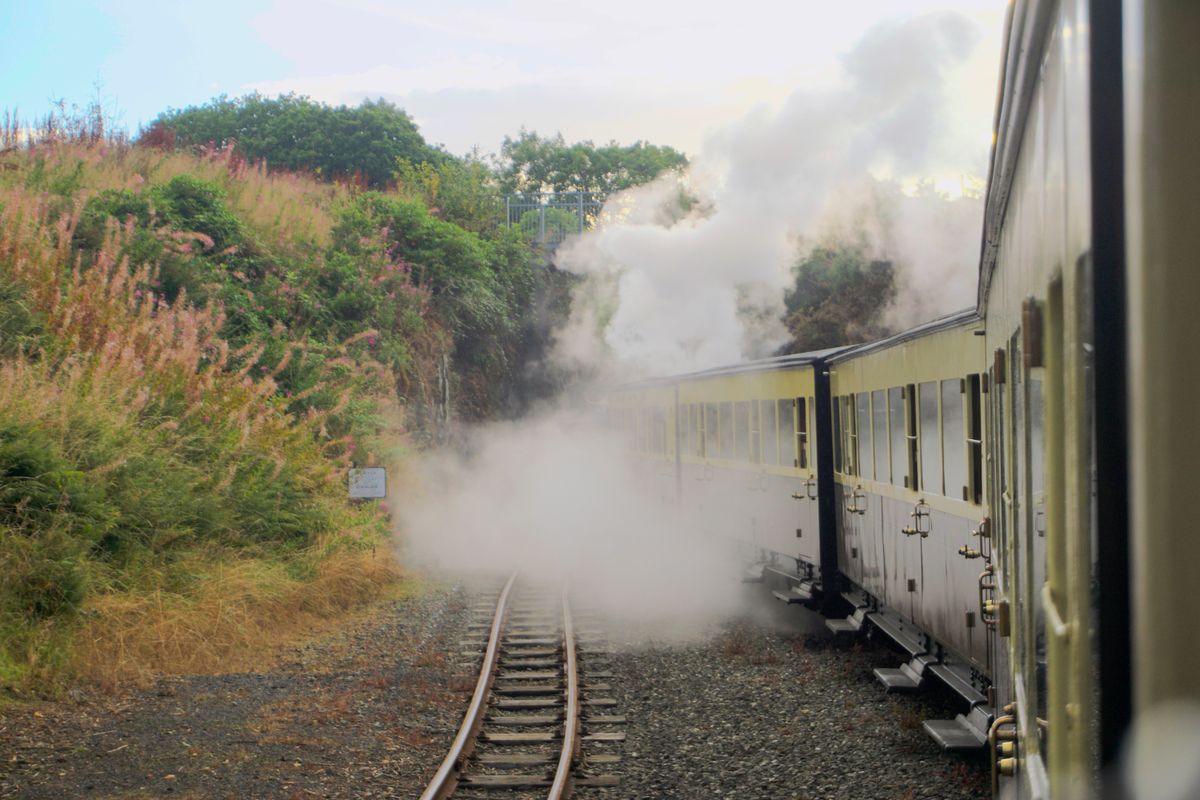 A trip on the Croydon Tramlink is a rarity for me, but apparently even rarer for the lady who got on with a group of 3 today—dressed as if heading to a party or going home from one. "I haven't been on the tram in ages," she said to her friends. "I don't think I've been on this model of tram before." That would put her last trip before 2012, when the Stadler Variobahn trams were added to the Tramlink fleet. (Ten years… has it really been that long?)
I travelled to Aberystwyth on Monday for a conference. My first in person conference for work since October 2019. (Two years, eleven months… has it really been that long?) The thrown-in accommodation was university halls, with thin walls and questionable layout decisions and alarms that went off all day. I realise I do not miss living in university accommodation. (Ten years after I stopped living in it, if you're counting.)
When I left London, we had a Queen and we had Boris Johnson as Prime Minister. When I returned, our Prime Minister was Liz Truss, and we had a new King. The second Elizabethan era had ended. The Carolian era has begun, if that name sticks.
The infamous Guardian article on planning for the Queen's death under the code name London Bridge (published 5 years, 6 months ago—if you're counting) said:
The royal standard will appear on the screen. The national anthem will play. You will remember where you were.
As it happens I do remember where I was. I first got the hint that something was happening at 12:37, as I awaited my (delayed) train back to Birmingham and admired a handsome gull on the platform in the meantime. A text to a group chat. "Uh oh." A screen grab of a BBC News notification. The Queen is under medical supervision at Balmoral after doctors became concerned for her health, Buckingham Palace says.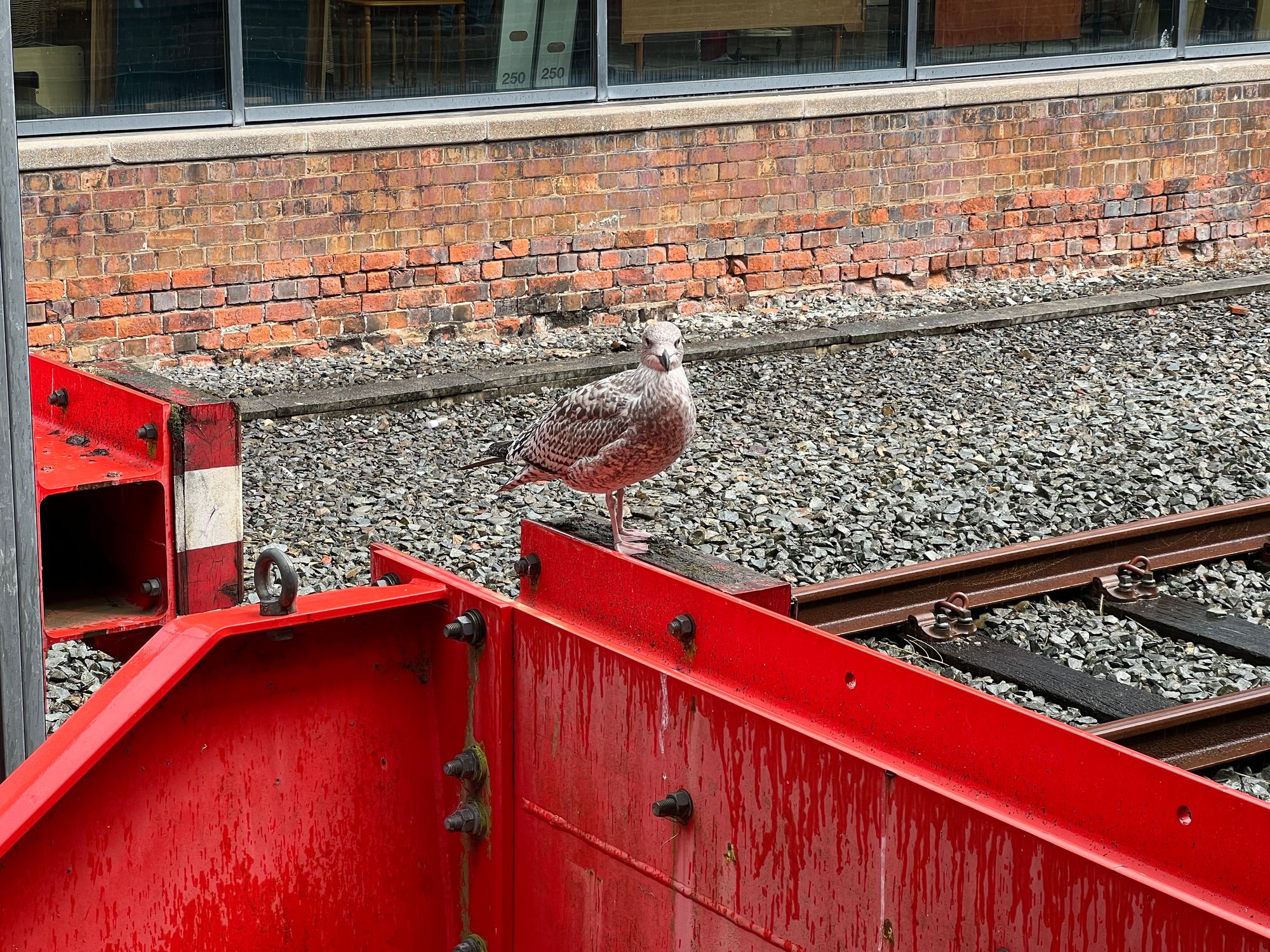 I had a nice enough journey back to Birmingham, and a surprisingly acceptable (compared to the outbound) journey to London on Avanti West Coast—although I suspect it may have earned me a ping from the NHS COVID app that arrived today. I walked along the Euston Road, where TfL have taken away the cycle lane, and witnessed at least 2 cabbies close-passing cyclists as a result. I went into the tube at Euston Square, and saw that someone (not clear if this was the station staff or some rogue marker pen-bearer) had modified the platform signs, declaring the westbound platform as the "Queen Elizabeth Zone" and hoping she would get well soon.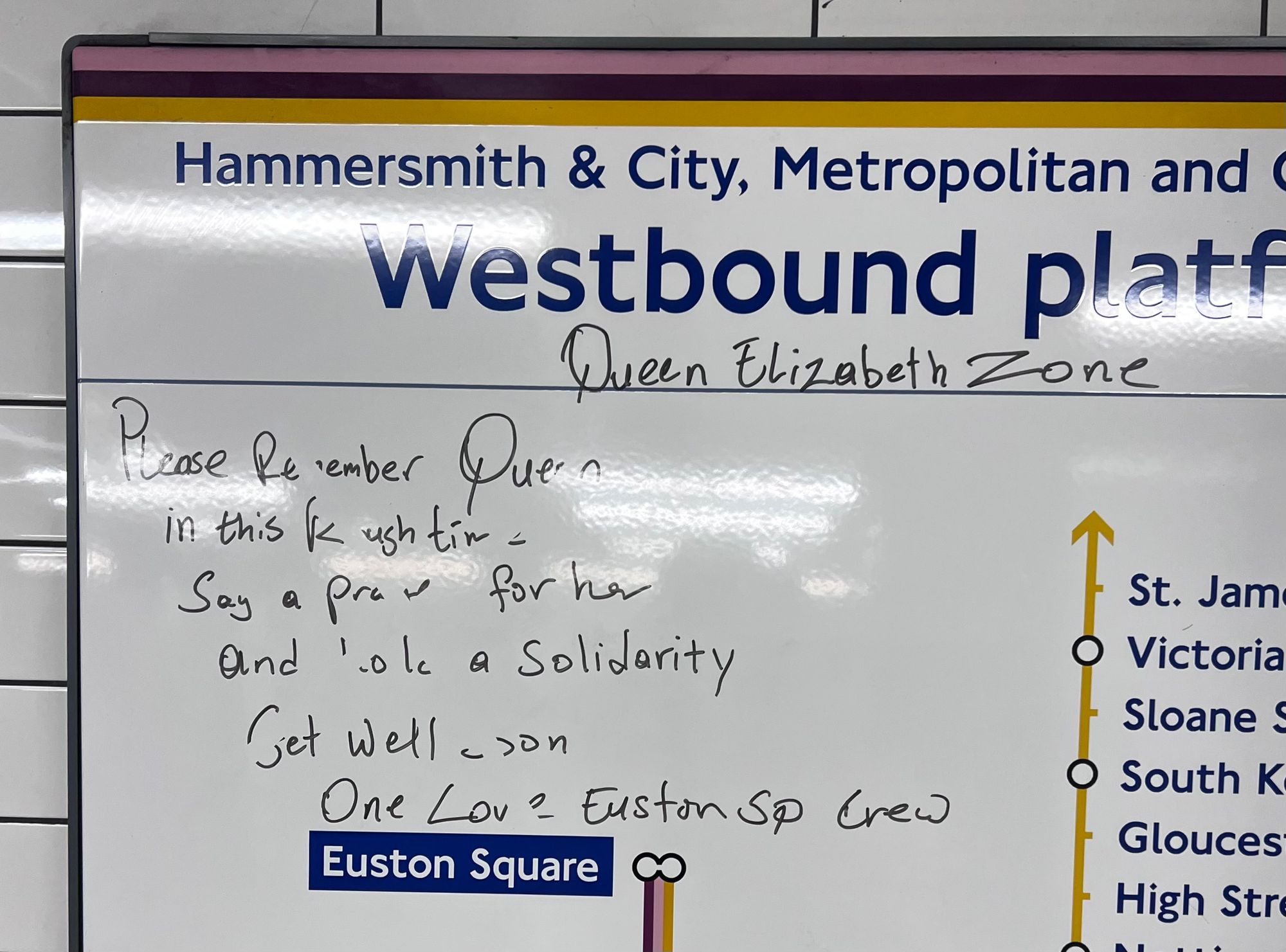 But it was all for naught. Because it was as my Circle line train to Paddington was pulling in that I saw a quote-tweet of the Royal Family's twitter account, and then saw mention of it on WhatsApp. The Queen died peacefully at Balmoral this afternoon. The King and The Queen Consort will remain at Balmoral this evening and will return to London tomorrow.
That was it. There was no audible gasp in the Circle line carriage, nor did my pulse quicken, nor was anyone sobbing or crying. It appeared to be life as normal. People wearily trudging and tubing their way home from work.
I got a text from a friend in America: "Condolences on your Queen." "Thanks I guess," was my reply, "Now's probably the time to mention I'm broadly speaking a republican (but not that kind.)" (It felt necessary to clarify.) "I'm generally opposed to hereditary power and wealth so," I continued. And with that our previous conversation resumed.
My friend who I was meeting at Paddington had been out of contact—on the Elizabeth line, of all places—when the news broke. We had Wasabi and chatted about life and work sat on one of those horrible round anti-homeless benches on the concourse.
After around ten minutes, the woman with the suitcase sat beside me turned around, tapped me on the shoulder, and said: "The Queen's dead!" She looked mortified. "Yes," we told her, trying to be polite, "I saw. It's sad." She said, "Liz only went to see her the other day. I saw the photos. She looked so frail." (It took us a while to work out that 'Liz' was Liz Truss, not the Queen being visited by some astral projection of herself.)
By the time I got off the Elizabeth line myself, advertising boards left right and centre had changed to photographs of the Queen. I came home to find the TV on and with my partner watching News 24, which he never does (I still insist on calling it that, despite the 2008 rebrand to the "BBC News Channel"—14 years and 5 months, since you're asking.) We ordered a Chinese takeaway and watched as Clive Myrie and Huw Edwards, both looking positively exhausted, plodded through what was sure to have been painstakingly-planned coverage, narrated cutaways to video of people gathered outside Buckingham Palace in the pouring rain, and introduced reports about sobbing people in Windsor who considered the Queen their "neighbour."
I enjoyed my duck fried rice very much, although it could've done with a more peppery sauce.
So, that was what it was like living through history, from Bae Ceredigion to Birmingham to Euston to Paddington to Stratford.
My week until that point had been mostly shielded from the news and from world events. I'd been busy seeing old friends and making new ones, sweating my eyeballs out walking up Aberystwyth's many hills, and enjoying the conference social event on a heritage railway—photos coming as soon as my film has been developed. (Did you know that when Elizabeth II came to the throne, steam trains were still in wide use in the UK? British Rail only banned steam on the mainline in August 1968.)
It was discombobulating to emerge into not just a surfeit of news, but a filtered one with barely a passing mention of the war in Ukraine, the possible homicide of an unarmed Black man at the hands of the police in south London, or the soaring cost of energy bills and the government's complete failure to modernise our country's energy grid and reliance on fossil fuels. Clive Myrie saying during the rolling news coverage that Liz Truss's speech on the cost of living crisis pales into insignificance may have been an unfortunate gaffe of a man who looked like he needed about 18 hours sleep, but it is telling about the priorities of those running the shop.
Elizabeth II's fifth Prime Minister, Harold Wilson, famously said that 'a week is a long time in politics.' Her reign lasted for 3,683 of them (plus one day.) The last one, despite all that happened, was not as monumentous as I expected it would be. But, to quote the BBC producer who rushed Peter Sissons onto the air to announce the death of the Queen Mother, "she was a very old woman who had to go sometime."
Meanwhile, the rest of us have to carry on, in a world that keeps getting hotter, pricier, and scarier.