Weeknotes 2023.5: Life's too short to look back into Hades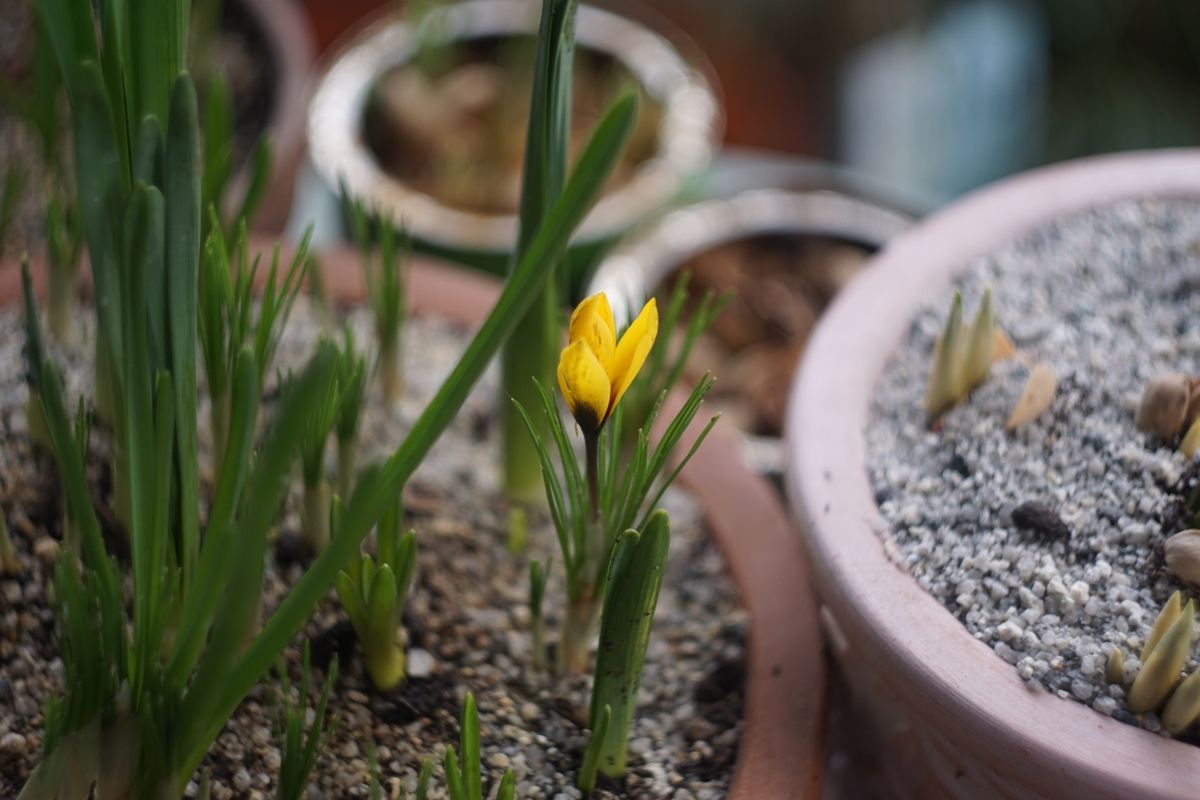 The weather has been surprisingly fine, I'm starting to feel better after my cold, and the first crocuses are coming up. Let's have some weeknotes.
On Saturday I went to my usual barber to get my hair cut at my usual place in Hackney Downs. Usually I'd cut straight across the marshes from Stratford, or go via Lea Bridge Road after dark. But this time, I was in Shoreditch, so I went via the infamously terrible Cycle Superhighway 1.
For those unfamiliar: The Cycle Superhighways are a sparse 'network' of cycle routes radiating outwards from central London, arranged in a vague clockface fashion, with quality ranging from fully protected Dutch-style cycle tracks (albeit over-signalised and too narrow) to murderstrips in the door zone of parked cars. The logical route for Cycle Superhighway 1 would've always been up the A10, but because this is Britain and god forbid anyone slows down cars, even a little bit, it ended up being a twisty, easy-to-lose backstreet shuffle through streets that were choked with traffic. Changes are starting to happen on the southern end in Hackney, with some much-needed filtering of the more dangerous parts. It took 5 years to fix one of the death traps on the Balls Pond Road with a short section of 2-way cycle track, and I was looking forward to trying it… only to get there and encounter this: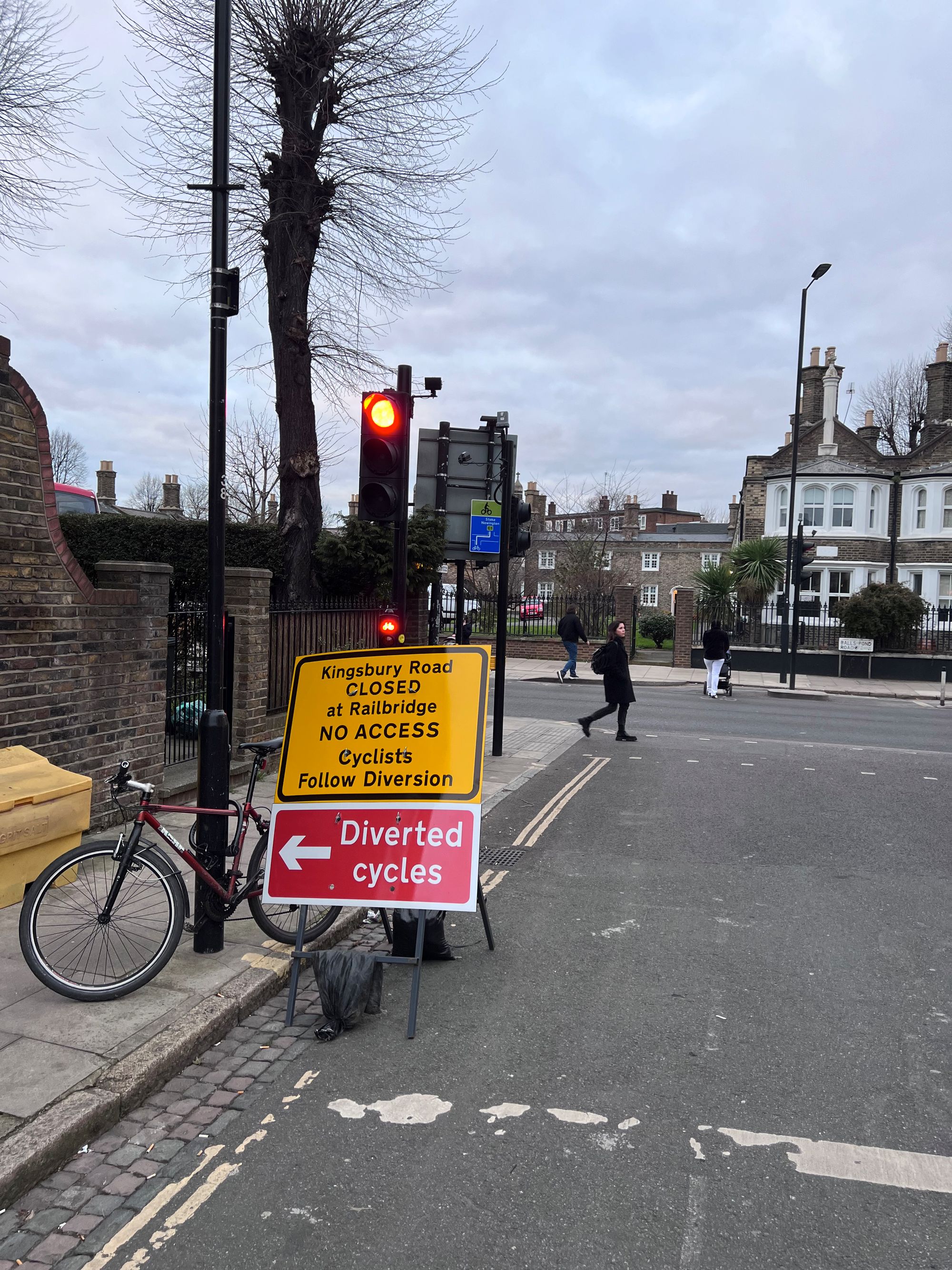 At this point, "Cycle Superhighway 1" uses a pedestrian- and cycle-only bridge over the railway at Kingsbury Road. For some reason, Network Rail have ruled that it is now unsafe for pedestrians and cyclists to use (despite trains still running under it every day) and so it was closed before Christmas—Network Rail now say that it will not be replaced for another two years. The signed diversion is a total mess. I had a number of close passes and did not have fun with the potholes, and also got lost. A better diversion would be easily possible—but there are anti-moped barriers in the way, and for some reason the council is resisting it.
And here we have a microcosm of UK transport policy, neatly wrapped up with a little bow. Those who rely on one of the cheapest modes of transport get shoved out of the way onto backstreets, and onto crumbling infrastructure that gets forgotten about. Embarrassing.
I had to log into Twitter to find this out, by the way, and I had forgotten how awful Twitter was for any of this. Combative, barely functional, and got my blood pressure rising—I literally found myself typing out some snarky replies before thinking better of it. Mastodon also has a massive problem with reply-guy culture, but let's not pretend it was 'better' on the worst website in the world.
Things I found interesting this week
The ITV drama NOLLY, written by Russell T Davies, is a small and perfectly formed delight, an interrogation of a part of TV history that almost no-one under the age of 40 (myself included) was previously aware of. Veering at points into hagiography, it was clearly made with reverence for the people who made Crossroads, a famously terrible soap opera which almost everyone looked down their noses at. The highlight is probably in episode 2 when the freshly-axed Noele Gordon (Helena Bonham Carter) gets on a bus, and is told by all and sundry around her (mainly women, but also the bus conductor) how much she and the show means to them and their lives. It also gave me a lot to think about when it comes to how we treat TV aimed at women vs. TV aimed at men, and how easily things get labelled "soap operas" (I'll be returning to this when I write something more about For All Mankind.)
From a local interest perspective, I enjoyed this hour-long documentary about the Docklands Light Railway from the 90s.
This documentary on the 2011 Tōhoku earthquake and tsunami, from Japan's state broadcaster, is often uncomfortable and occasionally terrifying—with footage, for instance, of people watching the tsunami come in who don't realise they're in its path.